They said it would be warmer. I was thinking early 60's, a lovely spring night. Then I heard it was going to be windy. So, there I was with four layers sitting in low 50's weather with the wind blowing. It felt like the temperature was in the 30's. At least that was my impression. I'm just recovering from a bad cold that my doctor told me on Friday might be "pneumonia." A cold night in Philadelphia, indeed, but I had to observe Jackie Robinson Day in a ballpark.
These are my impressions of the rather short night.
Jackie Robinson Day
Remember, I planned to go south in the early part of the season and avoid the cold northeast. I slightly amended my plan because of the Jackie Robinson Remembrance.
Los Angeles would have been a better choice. Jackie was a Dodger, and it would be warm in L.A. However, I tied my L.A. trip to the series in Mexico so I couldn't go in mid-April as well. Philadelphia seemed easy – I could drive. The Mets were playing the Phillies, why not go?
I needed to remember and celebrate Jackie Robinson in a ballpark, finally. My last post "My Father and Jackie Robinson's First Game" should have made it clear how special I think Jackie is. I had to see everyone wearing the same number 42. And I had to join the baseball community and pay my respects.
I didn't drive. I wanted something easier. So, instead, I used some points to fly to Baltimore and drive up to Philadelphia. Baltimore is much more affordable than Philly, and it's an easy drive to and from. Moreover, I would offset the cost of my rental car by losing a night in a hotel. I was so happy I made that choice. Driving six hours from Rochester to Philadelphia while recovering from pneumonia would not have worked well at all.
It's a beautiful sight. Tonight, the out of town scoreboard that lists the probable pitchers by number only contains the number 42. Oddly, all except for Los Angeles which is showing a number 22. Obviously, a mistake, but I'm standing there saying "WTF Kershaw."
Then the players appear wearing number 42 with no names on their backs. We are all equal, no? Honorable mention goes to Bryce Harper who wore UCLA (Jackie's alma mater) Bruins accessories.
All in all, I was moved.
Philadelphia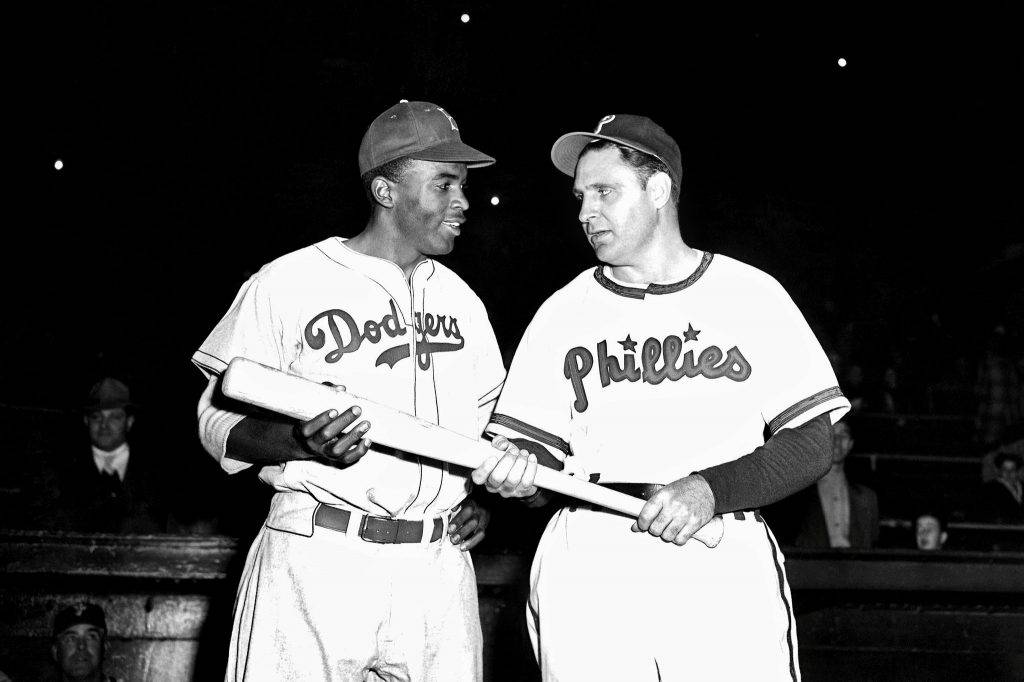 Philadelphia is an interesting place to celebrate Jackie's debut. After all, in 1947, Philadelphia was managed by the notorious Ben Chapman. Chapman's insulting taunts were awful, one of the few times Robinson reconsidered his no retaliation promise with Branch Rickey. When the Dodgers got to Philadelphia, Chapman was forced to make nice grudgingly. Sixty-nine years later the city apologized. 1
Additionally, the Phillies and Philadelphia had a long history of poor relationships with the black community for a long time. In 1969 Curt Flood would not accept a trade from St. Louis to Philadelphia. "The Phillies were a second division club known for their hostility toward black players." 2 He sued the league and the rest is history. Yes, Flood hated the Reserve Clause 3 and the idea of being forced to change teams, but the idea of moving to Philadelphia was galling.
The point is that times change. More importantly, people change.
It was moving to see black families happily enjoying an evening at the ballpark. I watched as they posed for pictures next to a statue of Jackie. But it was also moving to see everyone enjoy the moment. "Moving?" you likely will ask. It is the anniversary of the event that instigated the change. We celebrate the occasion together. We rejoice in it.
History Normalizes Events and Attitudes
History normalizes things. Most of us were born and raised in an integrated society; to us it is normal. To some, it may be either embarrassing or insulting to remember those bad days. It was so long ago.
Really, how long ago?
It's the 72nd anniversary of Jackie breaking the color barrier. Roughly the same for the integration of the armed services by Harry Truman.
It's 65 years since Brown vs. Board of Education in 1954
62 years since the Montgomery bus boycotts
56 years since the Letter from the Birmingham Jail and the March on Washington
54 years since the Voting Rights Act
51 years since Martin Luther King's assassination
48 years since the forced busing decisions
I could go on, but clearly, the days of segregation were a long time ago.
But think about it this way. The so-called "Gentleman's Agreement" that segregated baseball can be traced to 1887. Segregation was a 60-year tradition that was as normal then as integration is now. Yet the practice ended. And when it broke, there was a tidal wave of other changes that followed.
However, I sense that in hindsight we assume that integrating baseball was a fait accompli. That we just needed a Branch Rickey and Jackie Robinson to come along to make everything right. I don't think so.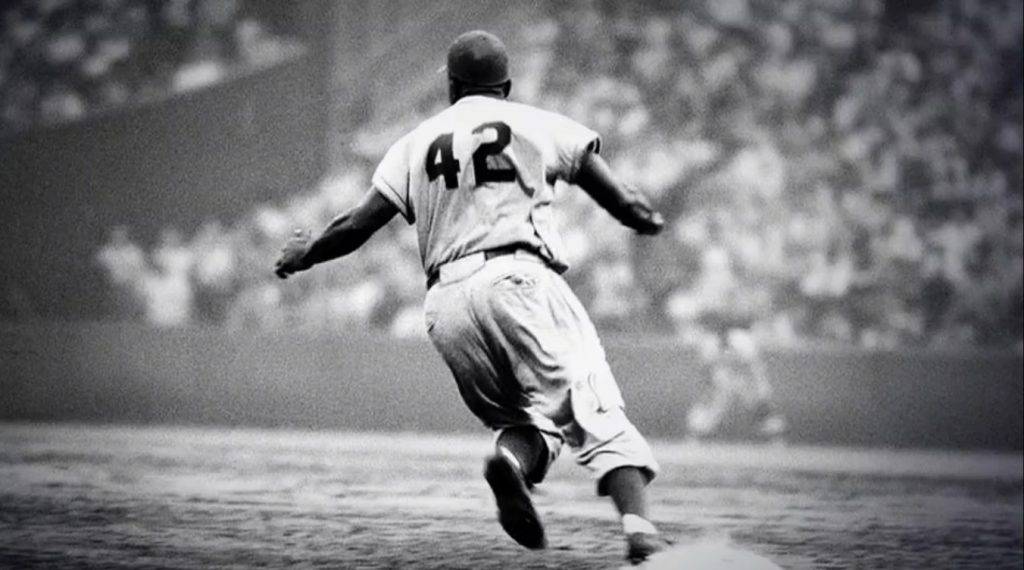 What if the player chosen wasn't a great player? Robinson was. What if the player selected didn't understand the mission and had overtly challenged the forces of resistance? Robinson understood his task. What if the player chosen couldn't handle the pressure? Robinson could. What if the player selected didn't draw fans and make the owners money? Robinson did.
That's what made me emotional. Segregation didn't have to end. We have Jackie Robinson to thank for the world we live in.
Citizens Bank Park
I like it! It's a bandbox, but I like it. The promenade around the stands is fun. The food selections in "Ashburn Alley" are good. I love "The Yard" where kids can play in a small version of the stadium. There is leg room between the rows – so much room that I, frankly, couldn't believe it.
The scoreboards are where scoreboards should be. They provide great information.
The stadium is not too loud, it's not too quiet.
The fans seem to know what's going on. It appears to be a community. As I was hunkered down under my four layers of clothes trying to stay warm, I heard a woman yelling behind me. It's her grandmother's birthday. Grandma is sitting there under a few blankets looking like she may have been a young adult when Jackie broke in. The woman asks us to all sing happy birthday, and we do. Fun!
Bryce Harper
Don't tell anyone, but I like Bryce Harper. I'm not sure he's worth the money they paid for him. He is a bit full of himself, and he isn't Mike Trout, but I like him. It was a cold night, a lot of empty seats, but not in right field, where Harper plays. Those seats seemed full. I enjoyed Bryce charging out to right, his dramatic bow and then pumped fists inciting the fans.
I also like that when I watch him hit, I see a little bit of Babe Ruth. He starts with his feet back in the box and as the pitch comes in and he starts to swing, his entire body flows into the act.
Finally, I like his commitment. A few years ago, we saw the Nats – with Bryce – play the Mets in Spring Training. It's the seventh inning. All the starters have hit the showers. To quote Bob Dylan "as the crowd thinned out, (and) I's just about to do the same." 4 Yet, there's Bryce, still in right field. I'll never forget that.
The Great Hot Dog Challenge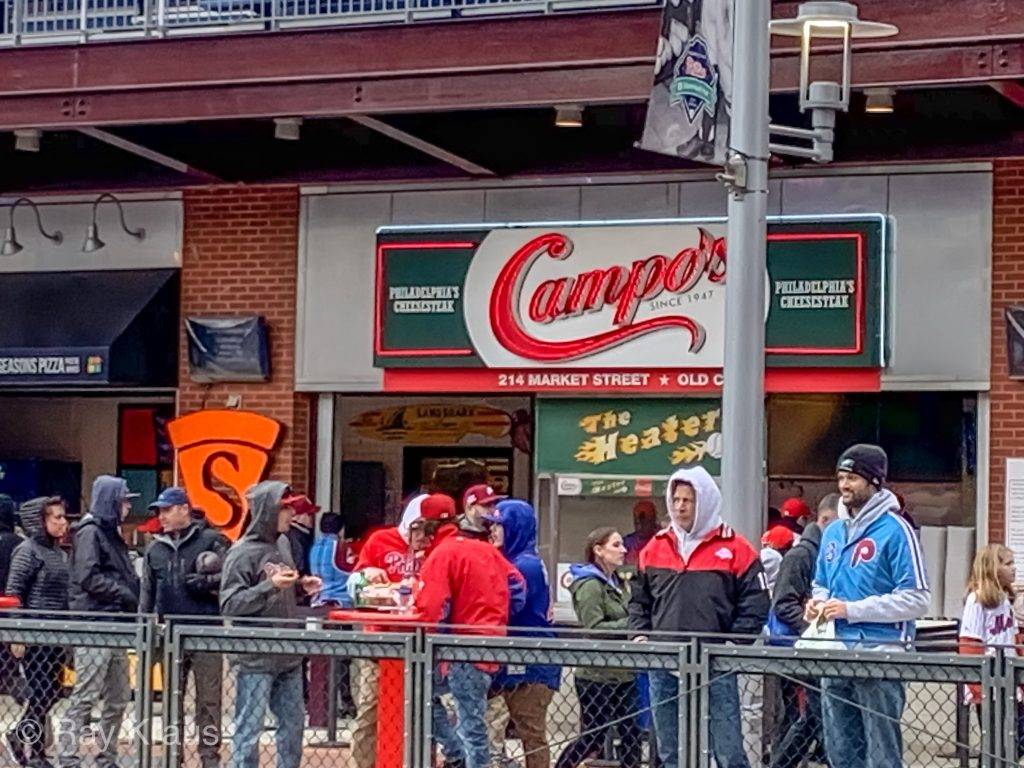 I'm trying to watch my weight, so I'm trying to be careful. However, I did commit to testing a hot dog in each ballpark. So, I need to find a unique one that fits my criteria. I also need a Cheesesteak. I mean we're In Philadelphia – how can I not get a cheesesteak. Also, how many ballparks ensure that the food they are known for is in the park? Rhetorical question, we'll find out this summer.
I have two cheesesteak choices – both in Ashburn Alley. Ashburn Alley is the section along the left field side that opens early for people to hang out, take their kids to "The Yard" and stuff their faces with unhealthy things that make one glad to be alive. My choices are either Tony Luke's or Campo's Steaks.5 I chose Campo's and got the basic cheesesteak. Steak, provolone and grilled onions on a delicious bun. I loved it.
The Hot Dog is from the "Boardwalk Eats" section. Instead of the "Phillies Frank," I choose the "South Philly Dog" a dog with "sharp provolone, roasted red peppers, and broccoli rabe. Is broccoli rabe a south Philly thing?
The South Philly Dog isn't bad – the broccoli rabe provides a bitter counterpoint to the sweet red peppers. It comes on a doughy, crusty bun. Complaints? The dog isn't crispy enough for my taste, the bun is a bit too big, so it overwhelms the dog, I couldn't taste the cheese, and there is only yellow mustard. Not bad, I would do it again. I'm ranking it slightly behind Washington's offering.
The Game
Yes, there was a game. Possibly due to to the cold, the Aaron Nola – Noah Syndergaard matchup did not materialize into a great pitching duel. Nola is still trying to locate his breaking pitches and gave up five runs in four innings. Syndergaard was dominant in the first inning but gave up a three-run lead in the second and another two-run lead in the third. He was gone after five innings.
The Mets finally won in the eleventh on a Rhys Hoskins error. By then I was back at the hotel, having hung up my authentic Jackie Robinson jersey that no one saw since it was the second of four layers.
I'm glad I went to Citizens Bank Park but I need to go back when it's sunny. After all, there is a cheesesteak from Mr. Luke's to try. Next stop is two games in sunny Florida, one in Miami and the other in Tampa Bay. I'm guessing I'll be able to watch more ball there.
Thanks for reading my article.
If you would like to be notified when I publish new pieces, please register for updates.