I planned to fly into Miami on Friday afternoon and see the Marlins that night. On Saturday, I'd drive the three and a half hours to St. Petersburg and catch the Rays. On Sunday, I'd drive back to Miami and fly home. In so doing, I would visit two ballparks I'd never been to before and have some fun. The resulting post would discuss why Florida's baseball franchises are troubled and my thoughts on the ballparks I visited. That didn't happen. Instead, it was a lost weekend in Florida, and I never made it to St. Petersburg.
A Rough Start
My game day flights leave early, around 6:00 AM, which means that I am up around 4:30 and out by 5:00. Thus I expect to be tired all day. Friday was no different. I landed in Miami around noon, got to my hotel and promptly slept until it was time to go to the game. This is not the way I roll. I might be tired but never so much that I require an afternoon nap, no. However, I felt odd, out of it and very tired. That night, after the game, I was up every couple of hours with stomach issues.
By Saturday morning I knew I was in trouble. I was a little dizzy, felt feverish my stomach was still bothering me, and I was somewhat short of breath. , I wondered if the pneumonia I had the previous week was back, even though I thought I felt better on Thursday. I didn't want to drive to St. Petersburg, and I considered taking a train. I didn't know they had trains between Miami and Tampa.
The timing for the train wouldn't fit my schedule so I "soldiered on." I left the hotel around 10:00 and started driving north.
Soldiering On
"Soldiered on?" Isn't this going to be the trip of a lifetime, every baseball fan's dream? Yes, the journey of a lifetime and something I desperately want to do. However, that doesn't mean that every day will be enjoyable and the travel easy. There will be days when I don't have it all together when things don't go smoothly.
Moreover, there is no turning back. Thirty ballparks and 42 stops is not a goal, it's a commitment I've made to myself, and I don't plan on failing. Which means I will need to push myself at times, and so I did.
The drive seemed to be going fine. When I was about 100 miles out, going west on I-75 and just entering the Everglades, I decided to take a break at a rest stop. My sense was that rest stops would be few and far between, so it was a good time to stop.
I didn't realize how sick I was until I got out of the car and stood up. When I did so, I felt dizzy and didn't think I had the energy to walk the 100 feet to the men's room. So I sat on a bench near the car while I gathered my strength to try the walk. In the men's room, I was hot, sweaty and thought I was going to pass out.
Remembering that "discretion is the better part of valor," I decided to stop and drove back to Miami. I slept for most of the next 24 hours and flew home.
I'll go to St. Petersburg on September 7th. I'm soldiering on.
Friday Night at Marlins Park
I may not be the most objective soul out there. I'm a baseball fan and will probably like most of the ballparks I visit. I like Marlins Park and find it sad that more people weren't there. The Washington Nationals are in town on a Friday night and only 8,000 or so people are in the park. Many of them were wearing Nationals gear; I'd guess that no more than 60% were Marlins fans.
Miami's attendance is so bad that they didn't even sell tickets in the upper deck. It's closed.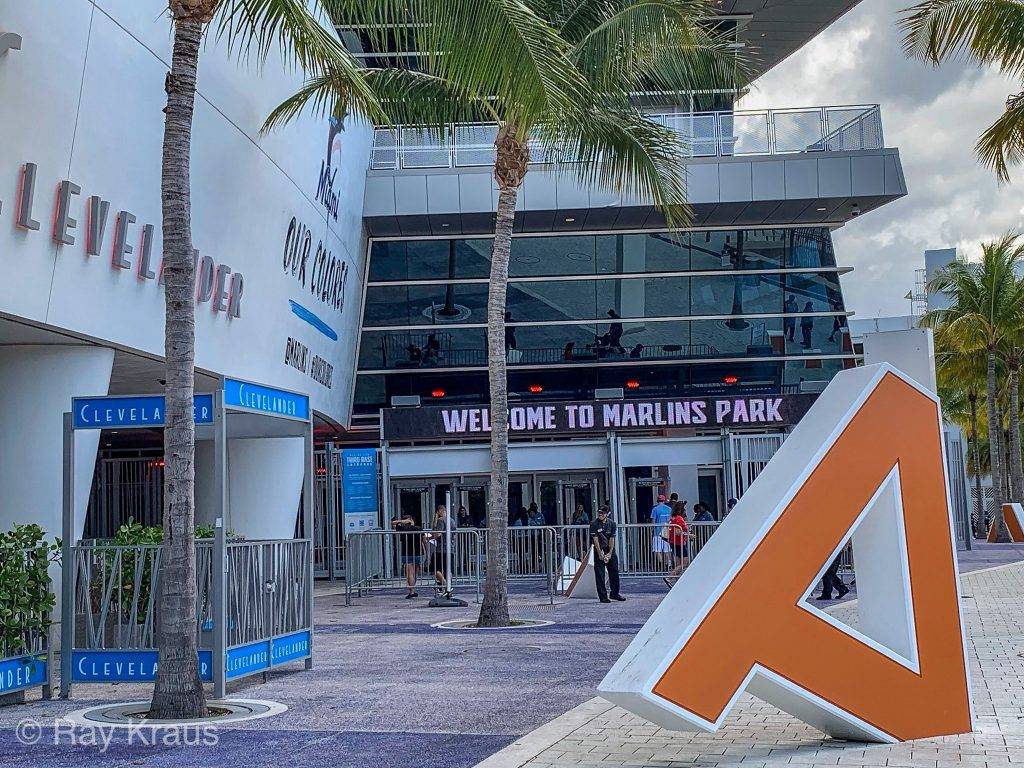 My take is it's a great place to go. I don't need the Marlins Mermaids dancing during the middle of the third inning, but it's fun. There is Cuban music playing, Cuban food offered around the park, the bobblehead museum and a beautiful view of Miami through dramatic tall glass windows in left field. Just imagine if the place was packed, the music was blaring and the fans rocking. It would be impressive.
So what went wrong?
What's Wrong With Florida Baseball?
Florida baseball attendance is awful. In 2018 the Rays ranked 29th (1,155k) and the Marlins 30th (811k) in attendance. Their combined attendance of 1,966k would rank 20th! 1
The Marlins have been among the worst five teams in average attendance in 18 of the past 19 seasons. The Rays have ranked last in six straight seasons. 2
The poor state of Florida baseball surprises people since it is one of the two states to host spring training. However, many of the fans who attend the "Grapefruit League" are on vacation and not Florida residents. They are not there in the summer. 3
Most of the articles I read point to both macro and micro issues with Florida baseball.
On the Macro side, consider that:
The Marlins' Problem
On the Micro side, both teams have their distinct issues. I'll discuss the Rays in September when I finally get to the Trop (Tropicana Stadium). The Marlins problem is that they have a long history of trading their best players.
The team has gone through four distinct fire sale periods in the last 20 years. They sold off critical assets after their 1997 world championship and did so again two years after their 2003 title. This bizarre strategy seemed designed to minimize goodwill and long-term fan investment and failed to capitalize on the rare feat of winning it all. After spending big to coincide with the opening of Marlins Park in 2012, the team once again traded away nearly every major league asset after a disappointing season. Dismantling the team again was probably the last straw for baseball in Miami, especially after the taxpayers of Miami-Dade County had chipped in a staggering and unconscionable $500 million to help build the stadium.

David Faris 8
In 2017, the Marlins had one of the best outfields in baseball and traded all three away as part of a historic selloff. That year they traded players that accounted for more WAR (Wins Above Replacement) than any other team in history. 9
My Visit To Marlins Park
I got to the park a little early. My assumption was that the gates would open two hours before game time. Nope, the gates open 90 minutes before the game so I waited a bit.
Once I was inside, I took a walk around the perimeter of the first level past the various food stands. There were many Cuban selections, and I wished I was hungry. I wasn't in the mood for beer either, so I wasn't too concerned that the beer selections seemed to be similar to most ballparks. Goose Island seems to have made a push into all the stadiums because I see them everywhere.
I visited the bobblehead museum – its big enough to be impressive, yet I assumed it was more prominent. However, where else can you see a Don Drysdale bobblehead, or a Hank Aaron one wearing number 5 as he did in 1954. There are many Mets bobbleheads and two Rusty Staubs. One in a Mets uniform the other in classic Expos garb. My favorite may have been one where Yadier Molina faces Adam Wainwright after winning the World Series. The manic bobbing of the two heads in unison is transfixing and a little disturbing all at the same time.
They Uglified Centerfield!!
As much as I like the ballpark, I was disappointed with what they did to centerfield. Since the ballpark opened in 2012, a very odd 75-foot statue that lit up after the home team hit a home run, dominated centerfield. It was behind a green wall that curved creating a kink in the wall. So it wasn't just straight. The wall also displayed the out of town scores. I loved it!
Evidently, the new ownership including Derek Jeter didn't like the statue. I'm also sensing that Jeter is knowledgeable about how franchises can ruin ballparks after his experience playing in the new Yankee Stadium. So the statue is gone and so is the curved green wall. In their place, a three-story plaza where fans can stand and watch the game and a boring straight wall. There is an empty section behind the wall covered in what looks to be fake grass.
Without the statue and the oddly shaped wall, the outfield loses its unique character.
Where's The Statue?
My understanding was that they moved the statue outside the stadium. So the first thing I did when I got to the park, was to look for the icon. The attendee at a customer information desk laughed and said that the statue was disassembled and stored in the stadium, somewhere.
Further research suggests that the statue will be rebuilt outside in the winter before the 2020 season. I'll believe it when I see it.
Scorecards
I've rekindled my passion for scoring the game!! It's a beautiful tradition that keeps your head in the game. However, the one thing you need to score the game is a scorecard.
As I trudged around the stadium, I kept asking this question. Where are the guys selling scorecards and giving away the little golf pencils? I can easily find them at Citi Field, and I thought I saw them at Citizens Bank Park and Nationals Park. Is scoring a ballgame such a dying art that we don't sell scorecards anymore?
Finally, I asked an attendant at the New Era cap kiosk, "do you sell scorecards, anywhere?" The answer, "they may have some at the team store."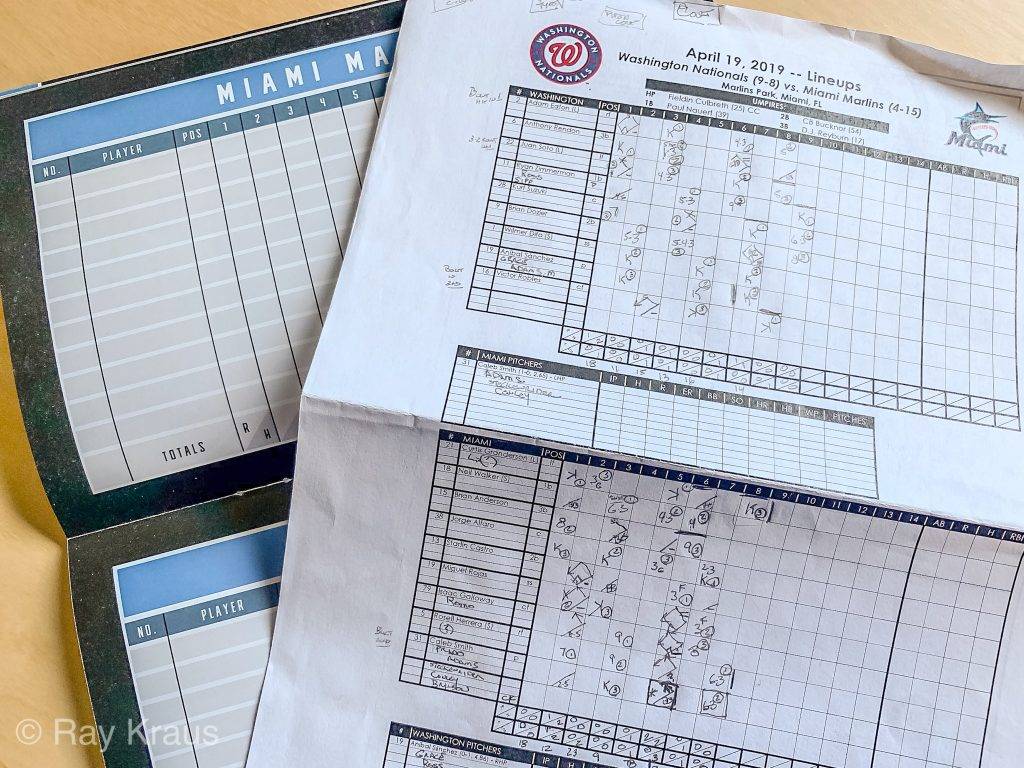 I head back to the team store where I had already purchased my souvenir — a fitted Marlins replica of the cap they wear at home. I didn't see scorecards. So I went to the counter, where the salesperson said: "welcome back." I guess I'm more memorable than I thought.
She had two versions of a scorecard. One was in a small program type affair. The other was printed on an 81/2" by 11" piece of printer paper. I took them both.
I now carry my own scorebook which will enable me to score the games to my heart's content — counting pitches and keeping tabs on all the other detail I crave.
The Rain Came
The massive wall of windows in the outfield that displays a dramatic panorama of downtown is even more impressive during a rainstorm.
Yes, around the seventh inning they announced that they were canceling the outdoor-after-game-party due to impending bad weather. Who knew? Bad weather?
Then the lightning started. Through the outfield windows, we saw lightning illuminate the night's darkness. Loud bursts of thunder followed it.
When we got outside, it was pouring. A classic Florida downpour. Not sheets of rain. Just a steady downpour that soaked me while I tried to find my ride. It's challenging to get a Lyft or an Uber using your phone in the rain in the confusing, designated "shared ride lot."
I loved the stadium and am looking forward to going back, but Marlins management: please work on the shared ride experience.
The Great Hot Dog Challenge
Marlins Park is not a hot dog paradise. I headed for "Top Dog" as I assumed these would be more unique than the dogs sold at the general concession stands. If they are unique to the ballpark, they are still not special. Just an assortment of Nathan's Hot Dogs. I chose the "Slaw Dog." The basic Nathan's Hot Dog with brown mustard and slaw. Very good, but also very run of the mill.
I asked if there was another stand with other hot dogs, "not really" they said. Later I saw them! At certain beer stands, they have grills with nice big dogs and sausages with grilled peppers and onions. I almost got one of those which I assume would be better than my "slaw dog." However, I wasn't feeling well, wasn't hungry and figured that I had similar at Roger Dean Stadium. My favorite, the "Dean Dog."
Note to Marlins management: they're called signs. You write in big letters that you have grilled dogs and sausages along with the beer, and people may buy them.
I rated the hot dog experience as average. It was okay, but nothing special.
The Game
I don't tend to discuss the games I see in my posts since they are more than adequately covered all over the internet including my favorite home away from home www.mlb.com.
My recap is that the Marlins' Caleb Smith struck out eight and led them to a 3 to 2 victory. Smith is in his second season and was picked up from the Yankees. He is one of the young guns that could make the Marlins competitive soon. Hopefully, the Marlins will fulfill that destiny. If they do, I hope the fans will give them another chance and start attending games as they should. If they do, they will find an excellent baseball experience awaits.
Next stop is the doctor and then Toronto and Vladimir Guerrero Jr.
Thanks for reading my article.
If you would like to be notified when I publish new pieces, please register for updates.