Here are my ballpark rankings based on my experiences on the 4Bases4Kids tour.  Please, click on the stadium name to see the accompanying post and let me know your thoughts through the comments section.
Wrigley Field and Fenway Park are in a class of their own and can't be ranked with the others.
Rank

Stadium

Comments

Not Ranked

Wrigley Field - Chicago, IL

There's not much that I don't like about Fenway or Wrigley. The fans, the food, and the atmosphere are all great. Yes, these parks can be uncomfortable due to their age, but visiting both is an experience every true baseball fan should have. I currently favor Wrigley over Fenway, but that could be recency bias.

Fenway Park - Boston, MA
These are the four that you should take someone who doesn't understand the appeal of a day at the ballpark.  All fans need to see these parks before they die.
| Rank | Stadium | Comments |
| --- | --- | --- |
| 1 | Oracle Park - San Francisco, CA | Since my first visit to San Diego' Petco Park in May, I've felt that it was the best stadium in the land. However, I revisited Oracle in September and realized that there is nothing that matches its setting and view from the third tank. It's the best by just a tad. |
| 2 | Petco Park - San Diego, CA | Petco is a beautiful ballpark in a beautiful city. It's adjacent to the historic Gaslamp District with great food choices, tons of beer with a nice nod to the city's baseball history. What's not to like? |
| 3 | PNC Park - Pittsburgh, PA | PNC and Petco are about equal in my book. They are both beautiful, located downtown and pick up their neighborhood's vibe. I love PNC's sense of history with the Clemente Bridge and statues. However, it seemed that PNC's walkways couldn't handle as much traffic as Petco's and the beer selection was weaker. |
| 4 | Orioles Park at Camden Yards - Baltimore, MD | I have to rank Camden Yards high for its beauty, neighborhood location, nod to history, and good food. More importantly, it set the standard for all the ballparks that followed. |
I'd be happy to live close to any of these ballparks so that I could visit them often.  
However, there are very few differences between the ballparks in this group.  Each was built in the last couple of decades since Orioles Park revolutionized baseball stadiums.  As such, they tend to have similar features.  They tend to be in downtown neighborhoods.  Most have brick (or stone) facades, historical references, statues of key players, many food choices, craft beer, cocktails and wine.
| | | |
| --- | --- | --- |
| 6 | Coors Field - Denver, CO | I'd visited Coors a few years ago and didn't think that much of it. This time I found my way to the third deck, and saw the beautiful view of the mountains and was suitably impressed. Also new since I was there last, there is a train that runs from the airport to Union Station near the Stadium. Very helpful. |
| 7 | T-Mobile Park - Seattle, WA | T-Mobile is another ballpark in nice downtown location. The Pen, Baseball Museum of The Pacific Northwest and the brewery across the street make it a wonderful place to see a game. |
| 8 | Busch Stadium - St. Louis, MO | Busch is another nice downtown location that incorporates the team's great history and Baseball Village is a good add. |
| 9 | Great American Ball Park - Cincinnati, OH | i was surprised by Great American Ball Park. I thought it was a little bandbox with few redeeming qualities. That is not the case. Its in a beautiful location on the river, near the Roebling Bridge. There is a good sense of history, nice statues, pretty good food and a great beer selection. |
| 10 | Progressive Field - Cleveland, OH | Progressive is in a downtown location, where fans can celebrate in bars and restaurants before and after games. The food and beer selection improved significantly since the last time I was there. |
| 11 | Minute Maid Park - Houston, TX | I don't usually like domed stadiums, but I love Minute Maid's downtown location and its incorporation of Union Station. The park has good food and drink with a nice nod to history. |
| 12 | Citi Field - Queens, NY | Not withstanding Fred Wilpon's fetish for all things Brooklyn Dodgers, and that this Ebbets Field copy really should be in a neighborhood and not in the middle of a sea of parking lots, Citi is a great ballpark. It has the best ballpark food that I've had, however, it needs a stronger presentation of Mets historical figures. |
| 13 | Target Field - Minneapolis, MN | I like Target Field's downtown location, sight lines, hot dogs, kielbasa etc. however, it needs more craft beers. I enjoyed the 2 Gingers bar, very cool. |
| 14 | Miller Park - Milwaukee, WI | I would rather see the ballpark in a neighborhood or downtown, but the atmosphere and food are fine. The statues and wall of fame are also a nice addition. |
| 15 | Citizens Bank Park - Philadelphia, PA | Citizens Bank is a small, comfortable ballpark outside of the downtown area. It plays like a bit of a bandbox which is not a good thing, but you could do a lot worse. |
| 16 | Nationals Park - Washington DC | Decidedly "meh" - Nationals Parks is a very steep ballpark with pretty good food and beer. They could do a better job of celebrating Washington's history, but kudos for the ease in getting to and from Reagan National Airport on the Metro. |
Each of these has one thing or another that makes a visit less than optimal.  In some cases a remodel will make a dramatic difference.  In others, there isn't much that can be done to improve the situation, but it's not likely that they will be replaced soon.
| Rank | Stadium | Comments |
| --- | --- | --- |
| 17 | Dodgers Stadium - Los Angeles, CA | I was happy to hear that a sorely needed remodel is planned for next year. Dodgers Stadium also needs a food upgrade. With that said, its a beautiful location and ballpark. |
| 18 | Kauffman Stadium - Kansas City, MO | I didn't have a good day at the "K" with Nomad The Younger. Kauffman seems like a pretty ballpark in need of a remodel as Dodger Stadium will get. |
| 19 | SunTrust Park - Atlanta, GA | SunTrust has many of the things I like - good food and beer selection, and appropriate historical references. It's a pretty ballpark and Boomtown is cool. However, it's hard to get to via mass transit. Most of all, there is "The Chop" - and I won't go back. |
| 20 | Yankee Stadium - Bronx, NY | The "New" Yankee Stadium is cold, austere and devoid of charm. Even though it has the beautiful Great Hall that is lined with banners of Yankee greats, it seems to be missing the expected historical references. Most of these are relegated to the Monument Park which is not as assessable as the Monument Garden at Atlanta's Sun Trust Park. Of course, it should still be at the old location, but that's another story. |
| 21 | Guaranteed Rate Field - Chicago, IL | Although it's easy to get to, and the food and beer are fine, Guaranteed Rate Field doesn't have much character. Moreover, is there a worse ballpark name in baseball? |
| 22 | Chase Field - Phoenix, AZ | Interestingly, Chase is similar to Houston's Minute Maid Park. They are both retractable domed, downtown parks, but Minute Maid has some charm and Chase is a bit more utilitarian. |
| 23 | Marlins Park - Miami, FL | Marlins Park could be nice if there was more atmosphere that reflected the location with better food and drink. Center field is now a mess without the statue and curved fence that was a focal point. |
| 24 | Rogers Centre - Toronto, ON | Rogers Centre is more of an arena than a ballpark and pretty sterile. It would be great to replace it with a true ballpark that reflected the neighborhood. Something like Houston, maybe? |
Time to start over, these for are very problematic.  They tend to have little charm or appeal. 
| Rank | Stadium | Comments |
| --- | --- | --- |
| 25 | Globe Life Park - Arlington, TX | I'm glad they're building a new one that opens next year. Some people like Globe Life a lot, but I find it hard to understand how they built a stadium in 1994 that has obstructed views similar to those at Wrigley and Fenway. |
| 26 | Angels Stadium - Anaheim, CA | Angels Stadium has been remodeled so many times that it has no character. There is talk about a new ballpark - possibly in Long Beach, which is very good idea. |
| 27 | Tropicana Field - St. Petersburg, FL | "The Trop" is a very utilitarian ballpark. It's not as ugly as I imagined, but there is little appeal. I can't imagine people get excited about going there. However, they should get excited about the baseball. |
| 28 | Oakland Alameda Coliseum - Oakland, CA | The Coliseum is the only multi-purpose, baseball stadium that is used for baseball and football. Its big and round so that the fans can't sit that close to the action. Its amenities are limited because of the stadium's age. The best thing it has going for it is that the fans who have made the place their home. |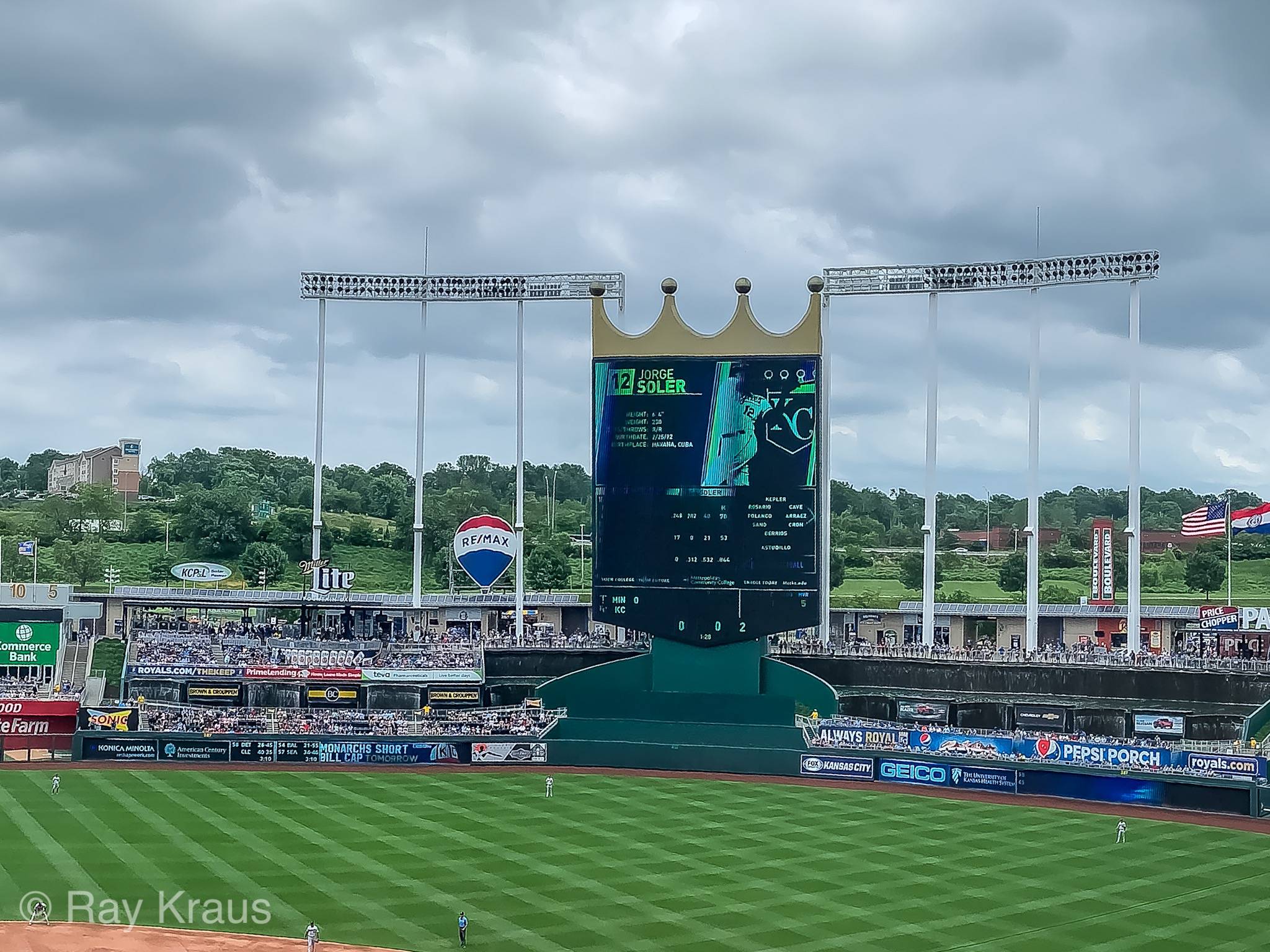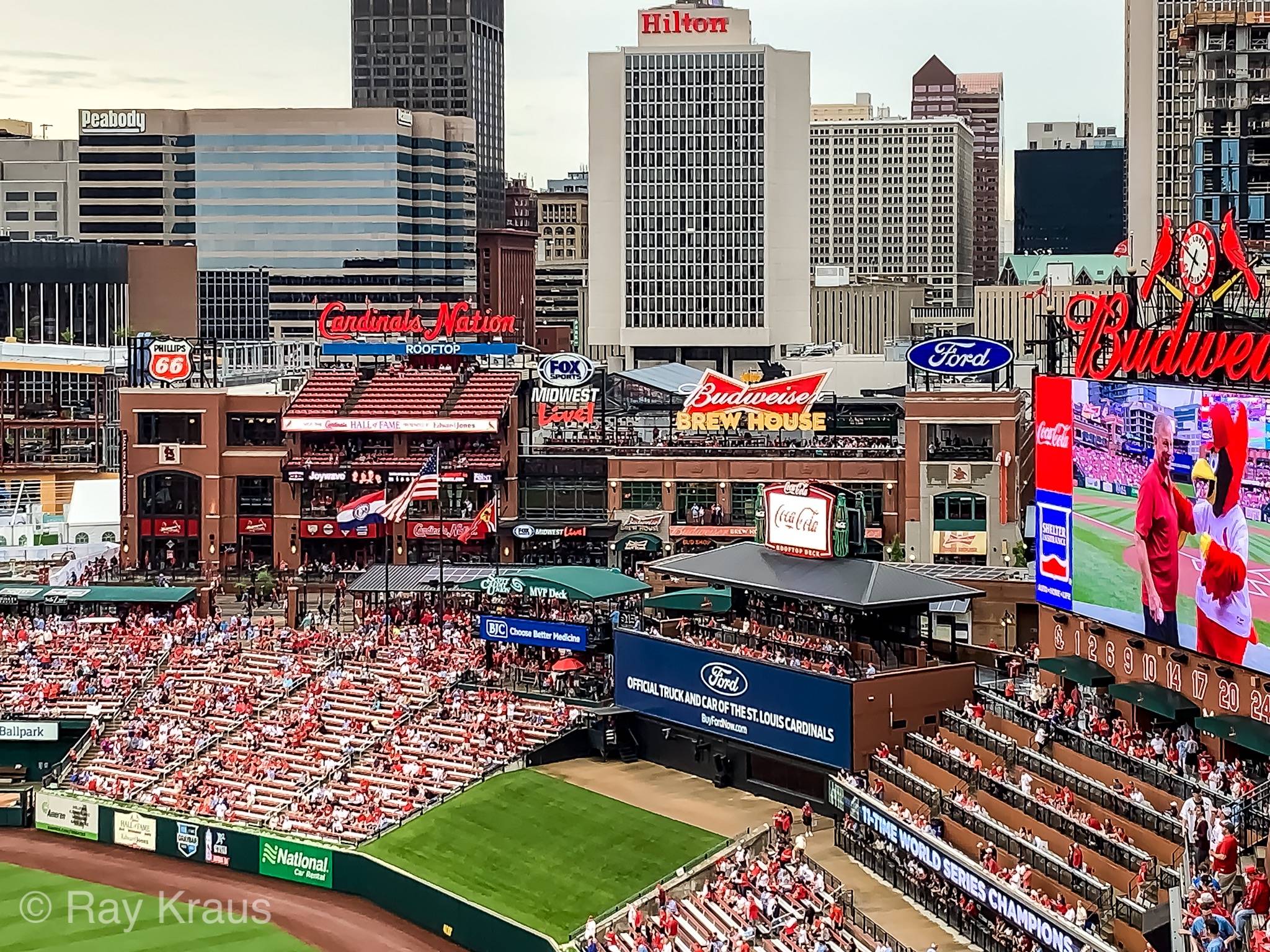 The Great Hot Dog Challenge
At the start of the season, I decided to try a hot dog (or something similar) in each ballpark and see which was best, based on these criteria.  These are my rankings to date.  Note that you can click on the Hot Dog or Stadium to see the associated blog post.  
Rank

Hot Dog

Stadium

Unique

Crispy/ Char

Bun

Toppings

Easy to Eat

Comments

1

Randy Jones Bacon Wrapped Dog

Petco Park - San Diego, CA

Excellent

Above Average

Above Average

Excellent

Yes

Bacon wrapped, grilled onions and they have brown mustard.

2

Bacon Wrapped Hot Dog

Busch Stadium - St. Louis, MO

Excellent

Above Average

Above Average

Excellent

Yes

Bacon, aioli and french fried onions - nice.

3

"Street Meat" - Sausage Connection - 12" Hot Dog

Lansdowne Street - Fenway Park - Boston, MA

Excellent

Above Average

Excellent

Above Average

Yes

I'm going to say that the "Street Meat" from Lansdowne Street qualifies. Lansdowne Street is one of baseball's most famous streets, it's right outside of Fenway and closed off to cars on game day. The Lansdowne experience is quite unique. This dog was as good as it gets. It was nice and crispy, good char and great taste. Topped with Sauerkraut with brown mustard to boot!

4

Schneider's 12 Inch Dog

Rogers Centre - Toronto, ON

Above Average

Excellent

Above Average

Excellent

Yes

A good crispy dog, with a big assortment of condiments to choose from. However, in the mustard capital of the world, they need to give you more than yellow mustard.

5

Monster Dog

Estadio de Béisbol - Monterrey, Mexico

Excellent

Excellent

Above Average

Above Average

Yes

Just a big wonderful, grilled dog with interesting toppings.

6

Smoked Kielbasa

Kauffman Stadium - Kansas City, MO

Excellent

Above Average

Above Average

Excellent

Yes

Love the apple mustard and braised red cabbage on this smokey Kielbasa.

7

Kramarczuk's Polish Sausage

Target Field - Minneapolis, MN

Excellent

Above Average

Above Average

Above Average

Yes

So what's so unique about a polish sausage? This one has a nice char and a lot of garlic, topped with a good Sauerkraut.

8

6" Vienna Dog - Chicago Style

Wrigley Field - Chicago, IL

Excellent

Above Average

Above Average

Above Average

Yes

You can only really get a Chicago Dog in Chicago - so its very unique. My only issue is that you have to add your own toppings from the condiment bar. They should do it.

9

Sabrett's (?) - 12" Hot Dog

Yankee Stadium - Bronx, NY

Above Average

Excellent

Above Average

Above Average

Yes

I'm not gonna lie. I'm not sure that this was from Sabrett. The details of my two games on that Saturday in the Bronx are a bit of a blur. Anyway, this is as good as the Charred Dog from Progressive Field - except bigger.

10

Charred Dog

Progressive Field - Cleveland, OH

Above Average

Excellent

Above Average

Above Average

Yes

Crispy, charred dog with Bertman Original Ballpark Mustard - the finest mustard in baseball.

11

Cleveland Kraut - Classic Caraway

Progressive Field - Cleveland, OH

Above Average

Above Average

Above Average

Excellent

Yes

Best kraut I've tried! Also, Bertman Original Ballpark Mustard - exclusive to Cleveland and the best brown mustard around.

12

RWB Dog

Globe Life Park - Arlington, TX

Above Average

Above Average

Average

Excellent

Yes

I probably could rank this one higher because its pretty, freaking unique. However, the dog is just above average with an interesting combination of toppings.

13

BANH MI

Nationals Park - Washington DC

Above Average

Average

Above Average

Excellent

Yes

Overall nice approach with the grilled bun and unique topping.

14

Kayem Italian Hot Sausage

Fenway Park - Boston, MA

Above Average

Above Average

Above Average

Average

Yes

I could have chosen the Kayem 12" Hot Dog, but since they make the "Fenway Frank" which most consider awful, i went with the sausage. Nice crispy char and a good bun. Note that they put the onions and peppers in the bun first, making it much easier to eat. However, are they still "toppings" when added that way?

15

Primo Italian Hot Sausage

Yankee Stadium - Bronx, NY

Above Average

Above Average

Above Average

Average

Yes

The sausage/hot dog choices at Yankee Stadium and Citi Field are pretty much the same. So, since I tried the Primo Sweet Italian Sausage in Flushing, I tried the Hot Italian Sausage in the Bronx. I like the hot better and the onions and peppers were more manageable.

16

Primo Italian Sweet Sausage

Citi Field - Queens, New York

Above Average

Above Average

Above Average

Average

Yes

Nicely prepared, great tasting sausage, with a nice char and bun and grilled onions.

17

Kosher Dog - All Beef

Citi Field - Queens, New York

Above Average

Above Average

Above Average

Average

Yes

All beef, crispy, grilled dog with brown mustard and a knish.

18

Kosher Dog - All Beef

Yankee Stadium - Bronx, NY

Above Average

Above Average

Above Average

Average

Yes

The Kosher Dog at Yankee Stadium is as good as the one from Citi Field and brown mustard is available. This isn't a knish contest, but the one at Citi was better, so I rank it's dog higher.

19

Grilled Hot Dog

Oracle Park - San Francisco, CA

Average

Above Average

Above Average

Above Average

Yes

I bought this dog just inside the Marina Gate at Oracle Park. It was an average grilled hot dog.

20

Polidori Bratwurst

Coors Field - Denver, CO

Above Average

Above Average

Average

Average

Yes

I got this dog at The Rooftop's Silver Bullet Bar. Very tasty - and a great view of the mountains.

21

Ball Park Coney Dog

Comerica Park - Detroit, MI

Above Average

Above Average

Average

Average

Yes

Frankly, Detroit was my last ballpark and I couldn't handle toppings. So I veered away from the recommended sauce and simply did onions and mustard. Good dog, but I didn't get its full experience.

22

Bratwurst

Miller Park - Milwaukee, WS

Above Average

Above Average

Average

Average

Yes

Above average in uniqueness because it is Wisconsin after all. Brown mustard readily available.

23

Schweigert's All Beef - Jumbo Dog

Target Field - Minneapolis, MN

Average

Above Average

Above Average

Average

Yes

Nice crispy, grilled dog with and all beef taste. Grilled onions a plus, but nothing special.

24

Sugarland "Jumbo Dog"

Progressive Field - Cleveland, OH

Average

Above Average

Above Average

Average

Yes

These are about equal to Target Field's Schweigerts All Beef - Jumbo Dog. Good basic eating.

25

Kahn's Hot Dog

Great American Ball Park - Cincinnati, OH

Average

Above Average

Above Average

Average

Yes

26

Hofmann "Coney"

NBT Bank Stadium, Syracuse, NY

Excellent

Above Average

Below Average

Above Average

Yes

Hofmann is a manufacturer based in Syracuse. Their "Coney's" are a regional favorite. The bun at the stadium was a tad soft, but the Hofmann German Style Mustard was wonderful.

27

Burst Dog

Tropicana Field - St. Petersburg, FL

Above Average

Average

Average

Above Average

Yes

It has nice bun, Louisiana hot mustard, house pickled sauerkraut and scallions. Unfortunately, the dog didn't have the crunch I like, and the mustard wasn't as hot as I expected.

28

Smoked Bratwurst

Oakland - Alameda Coliseum - Oakland, CA

Average

Above Average

Above Average

Above Average

No

This was a very good tasting Brat with good toppings and - how did they get it - Bertman Original Ballpark Mustard which I thought was exclusive to Cleveland.

29

Roma Hot Dog

Orioles Park at Camden Yards - Baltimore, MD

Average

Above Average

Above Average

Average

Yes

Crispy Dog - Good slaw - Yellow Mustard

30

Texas Big Dogs - Jumbo

Globe Life Park - Arlington, TX

Average

Above Average

Above Average

Average

Yes

Good dog & "Sweet Baby Rays" offsets the yellow mustard.

31

Dean Dog

Roger Dean Stadium - Jupiter, FL

Average

Above Average

Above Average

Average

Yes

Good grilled dog, but you need to find the kiosk in the left and right field corners.

32

H&F Burger Hot Dog

SunTrust Park - Atlanta, GA

Average

Above Average

Above Average

Average

Yes

Grilled bun is a nice touch - no toppings other than the condiments bar.

33

American Style Dog

London Stadium - London, UK

Average

Average

Average

Average

Yes

I love hard rolls - but this dog made me realize that a hot dog bun could be too hard.

34

12" Vienna Dog - Chicago Style

Guaranteed Rate Field - Chicago, IL

Excellent

Above Average

Above Average

Above Average

It Broke

Great dog, but 12" is too big. The bun broke - stick to 6".

35

South Philly Dog

Citizens Bank Park - Philadelphia, PA

Above Average

Average

Average

Above Average

Yes

Broccoli rabe is a thing in South Philly?

36

Red Hot Grill (?) - Hot Dog

Chase Field - Phoenix, AZ

Average

Average

Average

Average

Yes

I only think that I got this one from the Red Hot Grill. A pretty good but basic hot dog.

37

Rockie Dog

Coors Field - Denver, CO

Average

Average

Average

Average

Yes

I was still hungry after my bratwurst (don't judge) from The Rooftop so I picked this one up on my way to my seats. Another pretty basic but enjoyable hot dog from Nathans.

38

Ken Hoffman Dog

Minute Maid Park - Houston, TX

Average

Average

Average

Average

Yes

Boring dog on a plastic clam shell container.

39

Slaw Dog

Marlins Park - Miami, FL

Average

Below Average

Average

Average

Yes

Boring - Preassembled Nathan's Dog - Nothing Special.

40

Dodger Dog

Dodger Stadium - Los Angeles, CA

Average

Below Average

Below Average

Average

Yes

The Dodger Dog is the most overrated thing in baseball!

41

Crafty Dawg

Angels Stadium - Anaheim, CA

Above Average

Above Average

FAIL

FAIL - Too Much

It Broke

Good dog, but under too many toppings. More of a knife and fork adventure.

42

12" Dog?

First Data Field - Pt. St. Lucie, FL

Average

Above Average

FAIL

Average

It Broke

Good grilled dog, but the bun broke