Hot Dogs
I started July's five-ballpark trip around the Midwest with two games at Minneapolis' Target Field. From there, I continued to Chicago for three games at Wrigley Field, a quick trip to Milwaukee's Miller Park and then back to Chicago to see Guaranteed Rate Field.
My rank for Target Field is slightly above average. I like its downtown location, not to mention the view of downtown from the seats. Additionally, the use of limestone throughout the park and exterior was a great touch.
Readers know that I appreciate a ballpark's intimacy, its focus on the home team's history, it's food (especially hot dogs) and beer selection. Other than a relatively weak craft beer selection, Target Field is as good as any of the stadiums I've been to. It also has impressive statues all over the place.
There is a pub called "2 Gingers" on the second level right behind home plate. Little did I know when I bought my tickets that I was in the sections right in front of the pub. I could walk through the pub to get to my seat! How cool is that? Not that I did too much drinking, just a beer or two, but it's nice to know that a bar is near if you need it.
Fortunately, I stayed in a hotel downtown, so I had the opportunity for nice walks past the Mary Tyler Moore statue and a beautiful mural of Minnesota's Bob Dylan – a personal favorite.
Finally, the Mets were in town, and they were starting their post-all-star game hot streak. They won both games – Alonso hit 474-foot bomb and life was good!
Around The Park
Excellent views of downtown, a plethora of representations of "Bullseye" the Target Dog, fun Minnesota humor and the Metro is right outside. What more do I need?
Bullseye is Watching..

…Even at Night
Bullseye Statue….

…and Many Others
Best T-Shirt Ever!

Metro is Right Outside
Outside and along one side of the stadium is a timeline of great moments in Twins' history. However, on the other side of the ball park is the real find. There are three cut stone murals by an artist named Craig David. One is "Sustainability Reborn," "A History of Minnesota Baseball," and "Transit Then and Now." A very nice touch.
"Sustainability Reborn" by Craig David

"A History of Minnesota Baseball"

Twins Timeline
I score every game. During one of the games, I noticed that one of the Facebook groups I belong to was discussing scoring, I added this photo of my scorecard. I'm a tad compulsive and, among other things, I count and record the sequence of pitches. My scorecard photo resulted in some admiring comments.
Honoring Former Players
Twins Statuary
Statues and pictures of Twins players are all around Target Field – inside and out. However, even though I thought I walked every inch of the ballpark, I never saw the Harmon Killebrew and Kirby Puckett ones. Twins fans, please tell me how I missed seeing them!
Kent Hrbek

Rod Carew
Hot Dogs
Schweigert's All Beef – Jumbo Dog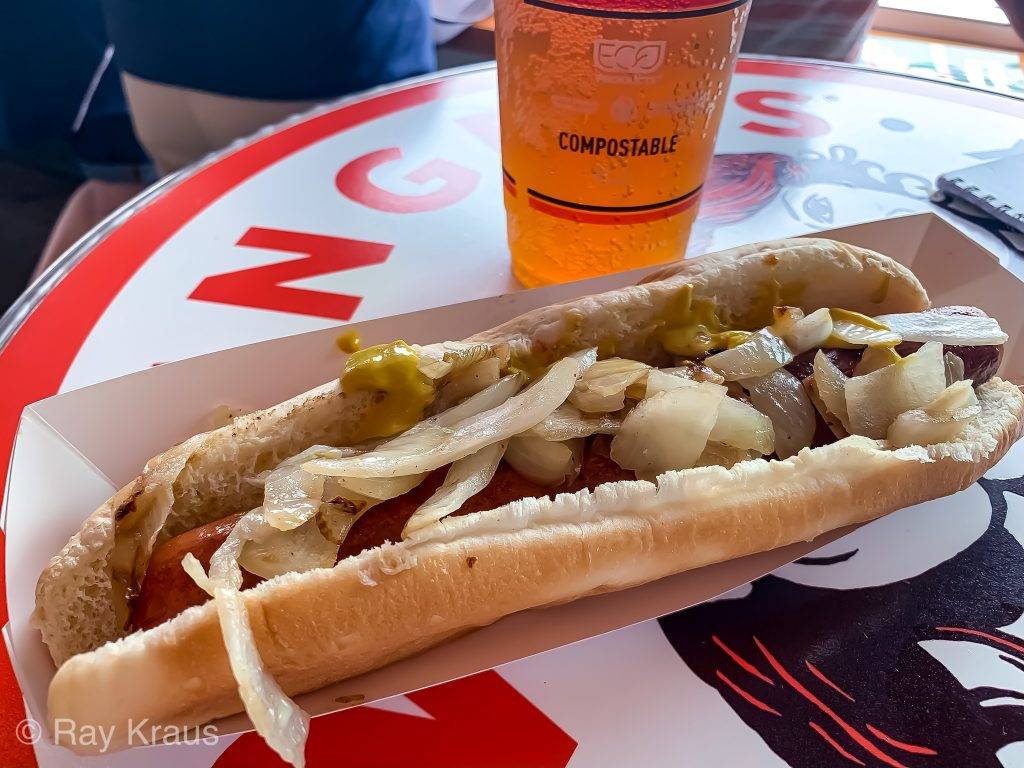 On day one I had to try the locally made Schweigert's Original Twins Hot Dog. There is nothing wrong with it, it's grilled, charred and crispy, with an all-beef taste. It comes with grilled onions. However, I ranked it sort of in the middle of the pack since it is similar to others around the league. ​
Kramarczuk's Polish Sausage
Kramarczuk's was one of the first places to catch my eye as I walked around the stadium on the first day. So, I had to have one on my second visit. Decision time; they had four sausages to choose from – Polish, Hungarian, bratwurst and, I think, a traditional hot dog. "Which is best?" I asked. "Do you like garlic?" I mean, who doesn't love garlic? So, I had the polish sausage that is very garlicky with some good sauerkraut.
It tasted great, I rank it high on my list. Readers of my blog know that grilling is essential to my hot dog experience. Kramarczuk's grills their sausages and thus the one I had a nice crunch and char.
After two days in Minneapolis, I planned to fly to Chicago on Thursday morning in time for a Wrigley Field tour in the early afternoon. However, heavy rain delayed my flight and, I rescheduled the tour for Friday morning. That story will be in a future post.