As July turned to August, my trip of a lifetime was entering the final stretch. In the five months since my trip started at Spring Training in March, I:
traveled 33,740 miles
took 41 fights
visited 36 of my planned 42 stops
watched 41 games at 18 major league stadiums as well as London Stadium, Estadio de Béisbol Monterrey, and two minor league parks
I planned four trips in August. Of course, the trip would take its toll. It required that I be on the road for 15 days and at home for only 16 days. Stop number one was a trip to the Bronx, the land of my birth and home of the Yankees. Later in the month, I would spend almost a week traveling through Ohio, Kentucky, and Western Pennsylvania. MOREOVER, On that journey, I was looking forward to seeing the Indians, Reds, Pirates, and the Louisville Slugger Bat Factory and Museum. The following week, I would travel back to Pennsylvania for the Little League World Series.
Before my trip west to Ohio was my weekend at Fenway, baseball's "uncomfortable" nirvana. Fenway is one of the very best ballparks to visit. I've enjoyed my many trips there and hope to go back often. However, for all its beauty, history, and charm, Fenway's seating can be awkward and uncomfortable for the 21st-century sports fan. These are the things one has to deal with when traveling through the baseball world.
Fenway Enchants
"There's nothing in the world like the fatalism of the Red Sox fans, which has been bred into them for generations by that little green ballpark, and the wall, and by a team that keeps trying to win by hitting everything out of sight and just out-bombarding everyone else in the league. All this makes Boston fans a little crazy, and I'm sorry for them."

Bill Lee1
In the wake of recent Red Sox successes, Fenway's patina of futility is slowly fading. However, for the longest time, Fenway had a tragic aura due to so many heartbreaking Red Sox failures. Through it all, Fenway has enchanted baseball fans for generations.
It certainly caught Nomad the Younger's eye when she was small.
Soccer Hall of Fame?
It all started in 1998 when the family Nomad drove to Cooperstown to spend a relaxing few days. Mrs. Nomad and I love Cooperstown and try to go back there anytime we can. It's a great place to rest and reflect as we sit on the Otesaga Hotel's veranda overlooking Otsego Lake. Cooperstown has excellent restaurants and, of course, baseball, baseball, baseball.
At the time, Nomad the Younger was an eleven-year-old soccer player. Although Mrs. Nomad and I would be content to hang out in Cooperstown, eleven year old's need a bit more entertainment. To keep things interesting for the youngest nomad, we decided to drive over to Oneonta to visit the Soccer Hall of Fame. I have no idea why the Soccer Hall of Fame was located in out of the way Oneonta, New York. Others probably didn't either, since that version of the hall went out of business in 2010. Its replacement is at Toyota Stadium in Frisco, Texas, a suburb of Dallas.
Anyway, we drove to Oneonta and enjoyed the exhibits, including what I understood to be the world's oldest soccer ball. In actuality, the oldest soccer ball is 450 years old and on display at the Smith Museum 2 in Stirling, Scotland. We saw the first vulcanized rubber soccer ball, which was developed by Charles Goodyear in 1855. 3
On our way out of the museum, we saw an advertisement for the Women's World Cup scheduled for the following summer. I had never heard of the Women's World Cup, but it sounded interesting, so we made plans to go.
Nomad the Younger and Fenway
We had never spent time in Los Angeles, so we decided to spend a week and see as much as we could. On our first Saturday, we saw the World Cup Finals at the Rose Bowl. All summer long, we watched with surprise as the team and event we hadn't known existed became the biggest story in sports. The games were as exciting as anything I have ever seen. Drama in sports is dependent on suspense, and there is nothing more suspenseful than a scoreless, championship soccer match.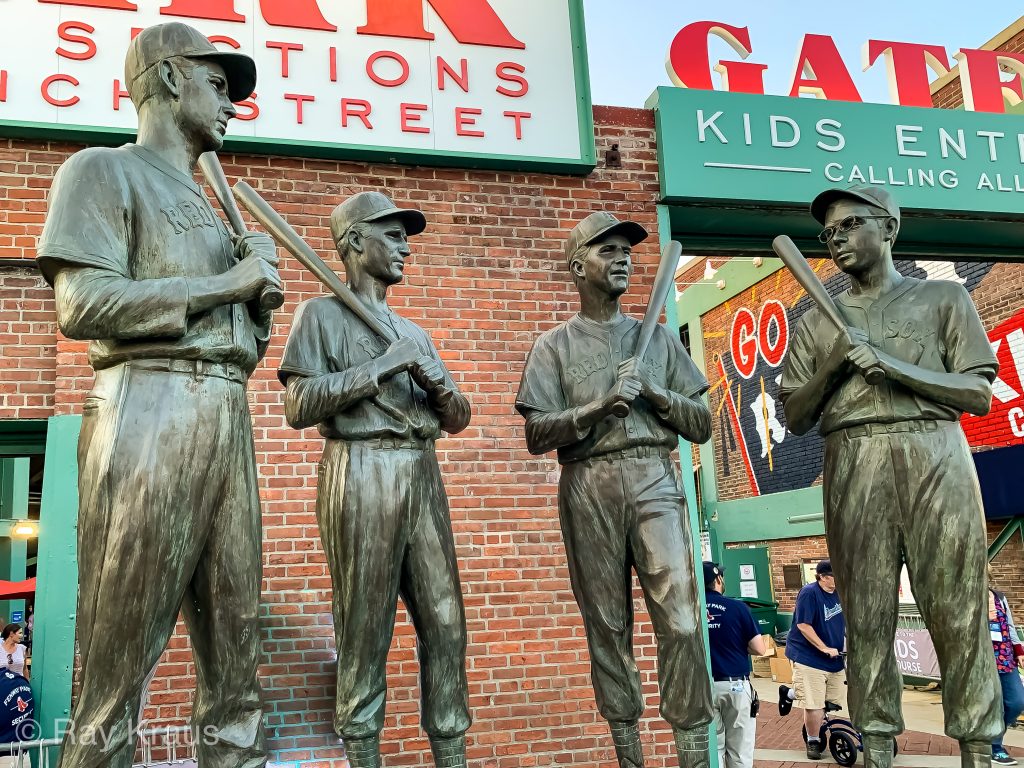 On Sunday, we made our first visit to Dodger Stadium to see the Dodgers play the Griffey and ARod led Mariners. Griffey homered, and Rodriguez made an error as the Dodgers won 14 – 3.
A few days later, we sat in our small hotel room in Manhattan Beach and watched the All-Star game from Fenway. Pregame festivities included the announcement of the nominees for the All-Century Team. We watched the parade as each living; all-time great walked onto the field when announced. Finally, they brought out Ted Williams, and all the relatively young all-stars gathered round to meet the great man.
Nomad the Younger had never seen Fenway. She didn't know about the oddly shaped little ballpark in the middle of Boston with its lush green field and walls. Nor had she seen the 37 foot tall Green Monster. Awed by Fenway, she turned to us and said, "I want to go there!"
We went the next year.
On my office bookcase, I have a picture of the youngest nomad from that day. She's smiling and wearing a Sox cap with the field and players in the background.
These are fond memories, indeed.
My Fenway History
At the time, I was already very familiar with Fenway. Mrs. Nomad and I met in New Hampshire and lived in New England for about ten years in the 1980s. Nomad the Younger was born in South Portland, ME, during that time. Moreover, my brother and his wife have always lived in Boston ever since they met in college. They have three children, all born in Boston and loving the Sox.
My first memory of Fenway was the 1967 World Series when the Bob Gibson led Cardinals beat the Red Sox. A few years later, I was in college when the 1975 World Series reignited my love for the game. Eleven years later, we lived in Maine when my Mets played the Red Sox in the 1986 World Series. At the time, Mrs. Nomad was pregnant with Nomad the Younger and drove an hour to work each day with "Mets 86" license plates on our small car. As she drove, she dealt with Sox fans honking their horns and making obscene gestures. Yes, we knew Fenway.
Every once in awhile, when we lived in New England, we attended games at Fenway. On our first trip, we watched Mrs. Nomad's favorite Brewers play the Sox from the right field bleachers. Mrs. Nomad, a former Wisconsin resident, rooted for the Brewers. So did others in the stands. One person had a large, Styrofoam "M" that he would wave occasionally. Late in the game, a Sox fan walked down to the fan, grabbed his "M," and broke it into a few pieces. As the crowd roared, he handed the pieces back and walked back to his seat.
Welcome to Fenway.
Fenway is Baseball Nirvana
Fenway is so very right in so many ways.
Fenway is Still Standing
Even though Fenway opened the week after the Titanic sank in 1912, it still stands on Jersey Street. As such, it will celebrate its 108th anniversary on opening day in April 2020. It's the oldest baseball stadium in the country, just two years older than baseball's other historic gem, Chicago's Wrigley Field. The next oldest ballpark was Yankee Stadium that opened 1923. Unfortunately, it was demolished in 2009.
I've written copiously about my disdain for the new Yankee Stadium. It's not that the new Yankee Stadium is an awful place, although it is notably sterile and generic. However, the original Stadium was, to me, the cathedral of baseball. Yankee Stadium was the site of so many significant events and the stage for so many great players. It's such a shame that they couldn't find a way to protect it. Frankly, it's a shame that they didn't seem to want to protect it.
In contrast, the Red Sox and the Cubs have labored to keep their historical parks standing.
I'm partial. Baseball's link to the past fuels my love for the game. When I look at the past, I realize that everyone has good days and bad. Yet we survived. Possibly wounded a bit, but we survived, nonetheless.
Similarly, Fenway Park represents survival and perseverance. In its long history, it's seen championships and heartbreaking failures. However, in the last 15 years, the Sox broke their 86 year-long championship drought and won the World Series four times. With that said, tragedy lurks behind Fenway's brick walls.
Unfortunately, as of this writing, the current cheating scandal tarnishes some of their recent record. Moreover, their payroll is too high, and they are starting to make cuts. It's possible that there are years of adversity to come.
Fenway Has Been Modernized
There was a genuine chance that new owners would demolish Fenway in 1999. The proposal was to build a new version across the street 4 similar to what the Yankees did in New York. Instead, Larry Lucchino – new team president led an initiative to remodel Fenway. I'm so glad they did.
Between 1998 and 2011 the Red Sox added:5
a new video display in center field
three new scoreboards in right center field
seats on top of the Green Monster
party decks in left and right field
new luxury boxes
updated food areas
in-game access to Jersey Street which runs next to Fenway
Let's face it; it takes courage to remodel a 100-year-old stadium. The easy thing to do was to tear Fenway down and build a new bigger one across the street. A new Fenway would likely be more profitable as well.
I appreciate that they took the risk on the original Fenway.
Fenway is a Neighborhood Ballpark
I recently wrote a piece about Guaranteed Rate Field that speaks to the idea of a neighborhood ballpark as opposed to new, retro-designed stadiums. Initially, owners built ballparks in existing neighborhoods, which constrained the amount of space that they could use. As such, each was different from the others, with their individual charm.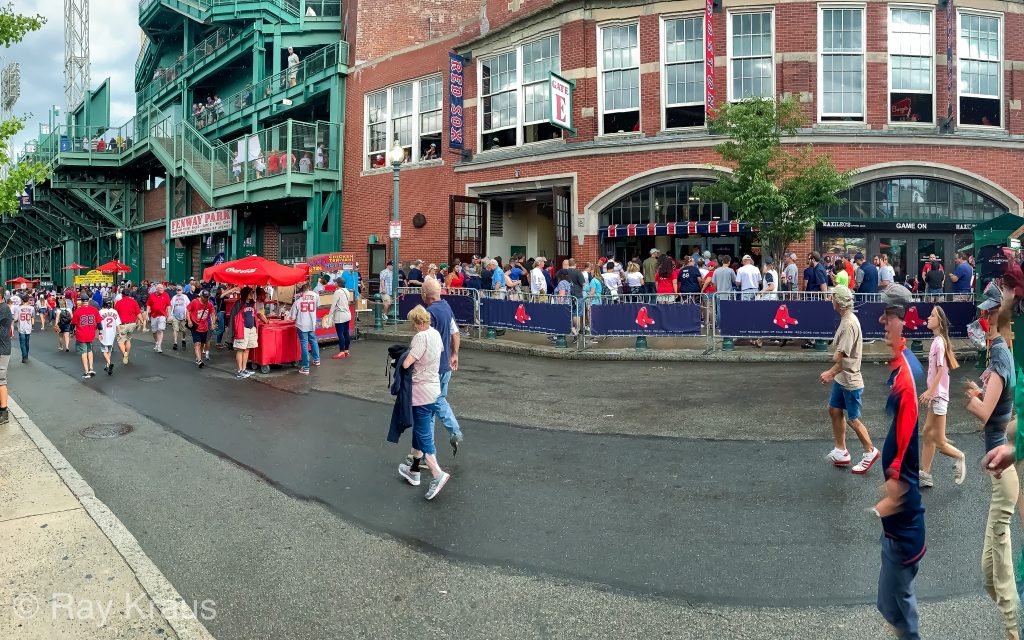 In contrast, the suburban stadiums built in the next era of new stadiums had seemingly unlimited space and thus lost their distinctive charm. Using similar design principles, the resulting stadiums all look the same; they were sterile and utilitarian.
Finally, the latest retro stadiums starting with Orioles Park at Camden Yards had plenty of space. Their unique character is "more affectation than necessity." 6
Additionally, parking lots that surrounded these stadiums created a barrier between the park and businesses nearby. This placement diminishes the economic value the ballpark brings to the area. Fans drive in and drive out and make no connection to the neighborhoods.
Fenway is unique because it is an actual neighborhood ballpark that is integral to the economic viability of the area. You experience that every time you go. Stores, bars and restaurants surround Fenway, not parking lots.
Fenway is a Party
You'll find lots to do on Yawkey Way before every Red Sox game. Check out Big League Brian (stilt walker), the Hot Tamales Brass Band, a face painter, a balloon artist, a juggler, and speed pitch. A caricature artist also makes an appearance on Saturdays and Sundays. 7
What do you get when you combine a little ballpark with a vibrant neighborhood that includes bars and eateries? You get a party. It's not a drunken brawl kind of party, just a lot of baseball fans having a great time.
You should arrive at Fenway early and have a beer at the Cask 'n Flagon or Beerworks or any of the bars that are in the neighborhood. Drop by a cart outside the park and have some "street meat" or find something to eat at one of the many restaurants. Just enjoy the atmosphere created by the neighborhood and rabid baseball fans.
Fenway is Green, Green, Green
"You should enter a ballpark the way you enter a church."

Bill Lee8
Of course, they also play baseball at Fenway. That means you need to leave the party and go inside and find your seat.
What you'll see inside the park is terrific. It opens up to a sea of green. The seats, walls, and field are a lush green. Moreover, seating is intimate, so (if you are in the right place) you're close to the action.
And then there are the quirky dimensions. The 37 foot tall "Green Monster" dominates the view as it stands only 310 feet from home plate. Starting at the left field foul pole, the Monster angles out to center field. It ends about 379 feet from home, where it forms the centerfield triangle, 420 feet away at its deepest point. In right field, the wall curves past the bullpens and ends at the "Pesky Pole." There is nothing like Fenway Park.
If you go with someone who knows the park – or possibly take a tour (which I didn't do), you'll see little nooks and crannies like "Canvas Alley." "Canvas Alley" was initially a pathway designed to enable circus elephants to walk in and out of the park. It's now a much smaller area near right field where the grounds crew sits until they're needed. 9
My Visit to Fenway
Since Fenway is in a neighborhood near Kenmore Square, it is a great ballpark to walk to.
My starting point was a hotel in Cambridge that overlooked the Charles River. In the mornings, I could see crew teams row up the river from my room. The hotel was about a mile and a half from Fenway, perfect walking distance.
Each day, of my two-day visit, I walked along the Charles to the Boston University Bridge, where I crossed the river. Past the bridge, I took a left turn and walked along Mountfort Street. Then, I took a right onto Arundel Street, walked a few blocks, and turned onto Beacon Street. From there, I could see the Citgo sign and knew I was close.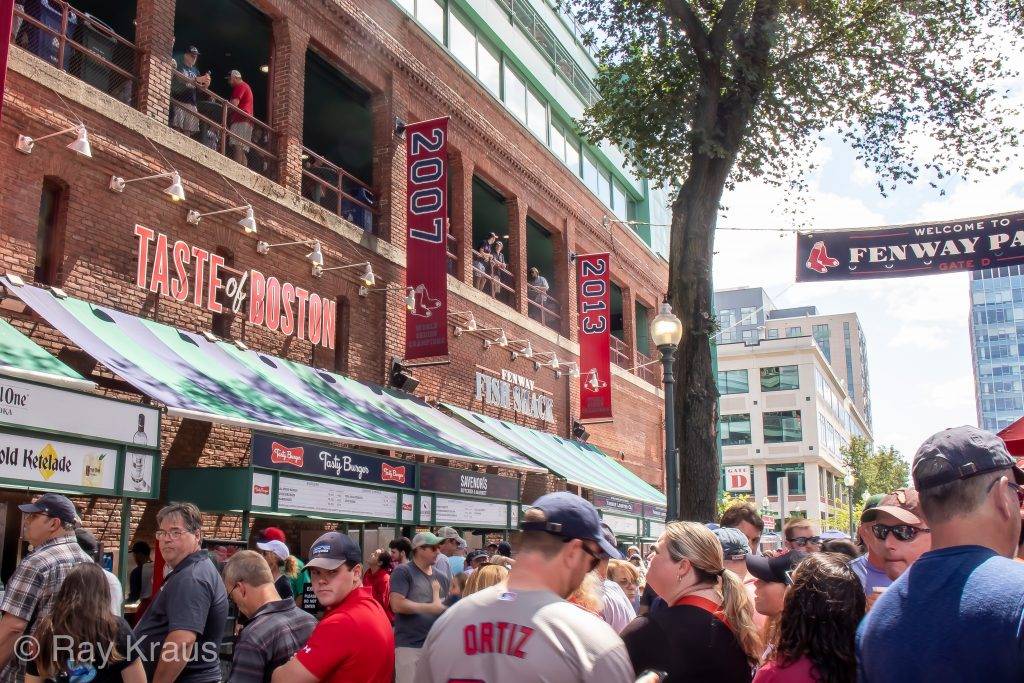 Walking on Maitland Street and then crossing onto David Ortiz Drive, I saw increasingly more fans in Red Sox gear. Finally, I walked across Brookline Avenue and was next to the red brick park.
Saturday in Right Field
I went to Saturday's game with my brother and his family. When I bought the tickets, I chose five relatively affordable seats in right field, near the Pesky Pole. I was on a budget and didn't want to spend more than $100 per ticket. However, I didn't want tickets along the foul lines between the bases and outfield. Fenway's seats don't angle towards the pitcher's mound, so if you sit along the foul lines, you have to awkwardly turn to see the action. Granted this is a "first world problem," but it's not comfortable staring straight into the outfield.
We didn't have to deal with awkward shifting since our seats faced the action. Unfortunately, the seats were further away than I expected, and I felt removed from the action. I've had similar seats in other parks without that feeling of separateness.
Later in the day, when the crowd started to thin out, we walked up to see who was in my brother's corporate seats. The firm has seats above the walkway on the first base side. When we arrived, we found some empty seats, so we stayed and watched an inning or two. These seats were much better. They were closer to the field and seemed to have a little more legroom. We didn't feel as cramped.
Sunday on the Third Base Side
Sunday, my brother's family abandoned him as they had other things to do. So it was just the two of us.
We met near the park and walked over to Beerworks for a beer. Beerworks is a microbrewery that opened across from Fenway about 25 years ago. My brother tries to get there before each game he attends.
After our beer, we walked over to Sausage Connection, a cart on Lansdowne Street. I had a 12″ dog with brown mustard and kraut. It was nicely charred, crispy, and tasted great. It ranks third on my list of best hot dogs.
Finally, we hung out on Jersey Street, which is closed off to the general public on game days. In so doing, fans can walk in and out of Fenway, making the experience similar to Eutaw Street in Baltimore. We watched the brass band, the jugglers, and Big League Brian (the stilt walker). We soaked up the fun atmosphere and got in the mood for baseball.
Our seats were on the lower level, somewhat close to home plate on the third base side. Their location was fine, but uncomfortable because they were tight with no legroom. They were so tight that we were almost on top of each other. Later we snuck down to the field level where season ticket holders sit. These seats were more comfortable and wonderfully close to the action. I felt that I was part of the game.
Uncomfortable Nirvana
My Fenway weekend were two of the best days of my trip. I was with my family and in a park that I love. I felt like I was part of the history of the game. In many ways, Fenway is baseball's nirvana.
Unfortunately, the seats can be uncomfortable. Since the games are popular, it's likely hard to get good seats. Moreover, you have to know your way around the park or research where the best seats are located.
My recommendation is to do some research and spend a little extra to get comfortable seats with a good view. You might find better seats on the secondary ticket market (a service like Stub Hub). Whatever you do, go to Fenway and get there early to enjoy the atmosphere and game in the best way possible.
I flew home on Monday. After the two day respite, I drove west to Cleveland to start my trip to see the Indians, Reds, Pirates, and Louisville Slugger Bat Factory and Museum. My journey's pace was picking up.
Thanks for reading my article.
If you would like to be notified when I publish new pieces, please register for updates.