There are three statues down the block from Detroit's Comerica Park, whose striking boldness herald the serene beauty of the ballpark. Not that, that was their intended purpose. Instead, they were placed on Madison Avenue in front of the Detroit Athletic Club to commemorate its 100th anniversary. The statues "commemorate the role the club has played in amateur athletics and professional sports since its inception in 1887." 1
The statues stand on a landscaped median in the middle of Madison Avenue's wide boulevard. The one on the far right-hand side is the "Running Back" to celebrate Detroit's football heritage. A statue that similarly recognizes the city's baseball past, titled "6.4.3," is located on the other side. One might think that this statue of the baseball player, making his through across the diamond, would speak to me. However, it was the one in the middle that I remember fondly.
"The Finish" depicts two runners straining to cross the finish line of a tightly contested race. I also felt that my race was over. In Detroit, I reached the finish line. It was the triumphant and to my summer long, thirty ballpark journey.
The day before, I left Tucson on a predawn drive to Phoenix to board my flight bound for Detroit. I had spent the previous two days relaxing and visiting with my brother. Now I was meeting Mrs. Nomad for the final ballpark of my trip.
Detroit
We enjoy the Detroit area because we have family in Ann Arbor, just a short drive away.
My sister (who previously joined us for a game at Wrigley), has lived there for many years. Additionally, Mrs. Nomad's older brother and his wife moved back to Ann Arbor about ten years ago. They met at the University of Michigan when they were students. They returned when my sister-in-law accepted a position at the University. Their homecoming became even better when their eldest daughter, her husband, and two boys moved there from Scotland.
In turn, I scheduled the Detroit stop for late September, so Mrs. Nomad could join me. We both wanted the chance to see our family. However, she tends to be busy from late July through August and wouldn't be available at that time. Also, I wanted her to join me on my last ballpark visit. So, September was a good time to go.
My plane landed first, and I was waiting at the SkyClub when Mrs. Nomad arrived. On the way to Ann Arbor, we bought supplies to make signs that would announce my achievement at tomorrow's game. Later, we spent a wonderful evening with my in-laws, niece, and her family.
Sunday morning, we had bagels at my sister's house and made our signs. Then the three of us drove off to see the Tigers at Comerica. However, this wasn't our first visit. The three of us had been there a few years earlier. In the following years, I had forgotten how impressive Comerica is.
While some might be surprised by Comerica's beauty, I consider it one of the best in baseball.
Comerica's Tigers
The abundance of Tiger iconography makes a visit to Comerica a unique and thrilling experience. No other ballpark celebrates their team's name the way Comerica does. There are Tigers everywhere.
The exterior brick walls, near the gates, are lined with thirty-three sculpted tiger heads with baseballs in their mouths. The balls light up at night. 2
Inside the park, there is an "ornate carousel featuring 30 hand-painted tigers."3 There are also large, circular tiger crests that span the walkway to the baseball-themed Ferris wheel. Additionally, standing tigers holding baseball bats are molded into the side of each row of seats.
However, most impressive are the huge, tiger statues that guard Comerica's entrances and lurk on top of the scoreboard.
Michael Keropian's Tiger Statues
The team enlisted sculptor, Michael Keropian to create nine "heroic sized" tiger sculptures to enhance the Comerica experience. The resulting statues are likely the largest tiger sculptures in the Western Hemisphere.4 In addition to the statues, Keropian also created the tiger head wall sconces that line the exterior walls. 5
Four different models, each of a roaring tiger in a different pose, are the basis for the nine statues. One sits back on its haunches while another stands on all fours. Both are growling. A third is prowling and roaring. The fourth is upright and leaning back on its hind legs with its left paw raised, ready to strike.
The statues' average height is twelve feet, and the longest ones stretch to over thirty-three feet. 6
The most impressive tiger display is at the North entrance, where five of them guard the gate. In the middle of the area is a 15-foot version of the upright tiger with its left paw raised. Two others roar from the top of each wall. Oversized baseball bats and the tiger wall sconces, complete the scene. It may be the most magnificent ballpark entrance in baseball.
Two more tigers stand on each wall that borders the West entrance.
Finally, the thirty-three foot long tigers prowl on top of either side of the giant, left field, scoreboard. Their eyes light up when a Tiger player hits a home run. 7
What's in a Name?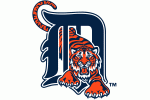 When I walk into Comerica, the statues make me feel like I'm entering a tigers den, where tigers rule. It's the kind of presence that engenders the fighting spirit a team wants its fans to have.
Interestingly, the Tigers are the only team with a name that enables the type of iconography employed at Comerica. No other team's name singularly delivers the majestic, yet fierce imagery that the name "Tigers" does. It would be absurd for other organizations to use images of their names the way the Tigers use theirs.
Animal Team Names
Eight other teams have animal names, but none of those animals are as fierce as tigers are.
For example, Baltimore mainly uses its cute "Oriole" caricature, which is not at all threatening. While the Cardinals use realistic representations of their namesake and Cardinal red predominates throughout Busch Stadium, cardinals are not intimidating. Instead, "Cardinals," "Orioles," and "Blue Jays" are peaceful, beautiful birds. Some of them even sing. Moreover, fish, like "Marlins" and "(Devil) Rays," don't strike fear in peoples' hearts, either. Finally, while bears are fierce, "Cubs" are just cute, baby bears.
The Arizona Diamondbacks' namesake is different. The diamondback rattlesnake is not cute and cuddly like a "Cub." Nor is it pretty like birds are, and it doesn't sing. A rattlesnake is fierce and dangerous. However, snakes haven't gotten good press since one gave Eve the apple in the Garden of Eden. A snake presentation at the Diamondbacks' Chase Field equivalent to Detroit's tigers would seem somewhat sinister or evil. Not the feeling they are striving for.
Names That Describe People
Fifteen teams, including the "Yankees," "Angels," "Mariners," "Royals," "Giants," have names that use various descriptions of people or beings. None strike the same intimidating tone that tigers do. It would be silly, for example, to have images of "Angels" at the gates Angel Stadium of Anaheim. It would take the ballpark as heavenly analogy a bit too far.
Moreover, there are many different representations of these beings, while tiger images are relatively consistent. Thus, teams use, humorous caricatures to replace lifelike images. For instance, the Pirates have used many versions of a Pirate on their logos throughout the years. Some of these pirates are handsome and shaved; others are not. Some have eye patches, and some don't. All of them are fun, not fierce.
Similarly, in the Twins Minnesota shaped logo, "Minnie" and "Paul"8 shake hands from each side of the Mississippi. However, "Minnie" and "Paul" are non-threatening, giant twins.
San Diego's "Swinging Friar" is also cute and fun. He is not fierce and intimidating.
A "Beer Barrel Man" is featured on some of the Milwaukee Brewers logos. Meanwhile, "Bernie Brewer" stands at the ready to slide down his slide to celebrate a Brewers' home run.
People Descriptions That Need More Information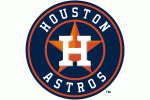 Other team names describe people or beings but need additional context to explain who or what they are. Thus, their names don't have the impact that tigers do.
For example, the name "Astros" wouldn't mean much if "astronauts" weren't a ubiquitous concept. Moreover, astronauts aren't fierce and intimidating. "Astros" are just cute astronauts.
Absolutely no-one knows what a "Met" is until they understand that the word is short for "metropolitan." But how would you depict a metropolitan? What would it say about your team if there were statues of metropolitan men and women guarding your ballpark gates?
The name "Dodgers" also makes little sense, but "Trolly Dodgers" does. However, "trolley dodging" was a Brooklyn practice, and meaningless in L.A.
Until you call the "Rangers" the "Texas Rangers." You can't know they are brave lawmen. Without the word "Texas," the Rangers lose their luster. They could be park rangers for all we know.
Offensive People Descriptions
The Indians and Braves can no longer use images that relate to their names because they are offensive. In 2016 the Indians replaced "Chief Wahoo" with a big block "C" as their predominant identifier. A few years later, they stopped all usage of the "Chief." 9
The Braves stopped using the "Chief Noc-A-Homa" caricature in their logos in 1989. 10 A few years earlier, in 1986, they stopped using the live "Chief Noc-A-Homa" mascot and thus ended his pregame ritual of performing a war dance on the pitcher's mound.11 Additionally, the chief would no longer watch games from his outfield teepee. He also wouldn't perform his celebratory war dance after Brave home runs. However, the Braves' controversial use of Native American imagery continues with their "Tomahawk Chop" cheer.
It would be inappropriate to use these images in Atlanta and Cleveland, the way Detroit uses its tigers.
Tigers don't offend.
Undefinable Team Names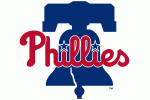 There are also teams whose names are almost meaningless in that they don't describe sentient beings. "Phillies," "Nationals," "Reds" and "Athletics" don't exist.
As such, these teams can't use images as Detroit uses its tigers. Instead, the Phillies occasionally use the Liberty Bell while the Nationals use the nation's capital. The Reds use the little guy with a baseball head and 19th-century mustache. The Athletics elephant balancing on a baseball is a great logo but does not have the same impact as a tiger.
Teams Named After the Mundane
Finally, there are teams named after mundane and commonplace items.
"Sox" is simply the plural of "sock." Thus the "Red Sox" and the "White Sox" can't make prominent use of their names in statuary. Other than old banners, there's not much to display. A series of "sock" statues are not inspiring and certainly not intimidating unless they are dirty.
Colorado's Rocky Mountains are not necessarily mundane, but statues of them wouldn't have the same effect that tigers do.
"Tigers" is the only team name suitable to dominate a ballpark's appearance. The team makes the most of the opportunity.
Around The Park
It's not just the tigers. Comerica shines in other ways that I've come to appreciate.
Downtown With A Neighborhood Feel
My ideal ballpark is an integral part of a city neighborhood. Few parking lots separate it from the surrounding community. Comerica feels like part of its neighborhood even though some parking lots create a barrier between it and area businesses.
Comerica and the neighboring Ford Field were part of a turn of the century revitalization project.12 However, the revitalization's success was questionable. Whatever progress there was, it was limited to downtown and short-lived. The recession of 2008, offset any of the limited gains made in the previous decade. Currently, efforts to revitalize downtown continue, with the gnawing question of how to involve the greater Detroit area. 13
However, from the limited perspective of a Baseball Nomad, Comerica is an exceptional addition to downtown. The main entrance is across from the renovated Fox Theater, which also played a role in revitalizing the area.14 Another entertainment venue, the smaller, Fillmore Detroit, is a few steps away from the Fox. Moreover, the Detroit Opera House and the Music Hall are just south of Comerica. Finally, Comerica's main entrance is between two historic churches St. John Episcopal Church and Central United Methodist Church. 15
The Skyline
And with no upper deck outfield seats, no ballpark offers a better view of a downtown skyline than Comerica Park. 16
Reinforcing the sense that Comerica is integral to the city is its magnificent view of Detroit's skyline.
The city's architecture "is recognized as being among the finest in the U.S. Detroit has one of the largest surviving collections of late-19th- and early-20th-century buildings in the U.S." 17 The skyline contains a variety of styles, including Beaux-Arts, Art Deco, midcentury modern, and postmodern structures.18 Unfortunately, due to the city's troubled economy, many of the buildings are endangered. 19
Because, Comerica has no upper deck outfield seats, and it faces downtown, it offers a fantastic view of the skyline. The Detroit Athletic Club is just across Michigan Avenue and dominates left-center field. Then in the distance are some of the city's tallest and most ornate skyscrapers. These include the Cadillac Tower, Ally Detroit Center, the Penobscot Building, and more. Overlooking right field is the David Stott Building with a tall mural of humpback whales.
The Walk of Fame
When we entered the ballpark, we walked the wide concourses that circle the playing field. These are the widest concourses in baseball, so there is a lovely open feeling about the place.20 The openness is enhanced because the playing field is quite visible from wherever you are.
There are a series of outposts in the concourse that speak to the Tigers 125 year history. Such a nice change from other ballparks that constrain their historical artifacts to crowded and usually out of the way areas. At Comerica, Tiger history is integral to the ballpark experience.
Following the concourse to left-center field, we arrived at the Tiger's version of a Monument Park. Six extraordinary statues of Tiger greats, Ty Cobb, Charlie Gehringer, Hal Newhouser, Hank Green berg, Willie Horton, and Al Kaline, form a line along the outfield wall. The statues depict the players in action and add accents that intensify their sense of movement. Cobb is sliding, Greenberg and Horton are swinging, while Gehringer is throwing to first. Kaline is stretching to catch a fly ball, seemingly before it goes over the wall. Finally, Newhouser is mid-windup, with his back arched, and leg in the air as he prepares to deliver his pitch. These are simply the best ballpark statues that I have ever seen.
The "Tiger Den" – Why I Need to Go Back to Comerica
The Tiger Den was the first of its kind in baseball. Located at the upper rows of the lower bowl, it resembles the fashionable boxes at old-time sporting venues with moveable chairs. 21
As we walked to our field-level seats, we passed through the "Tiger Den." These cool chairs look like they belong on the deck in your back yard. In between each set of chairs is a small table to hold your drink etc. "How cool is this?" I thought, "this is my 30th ballpark, and I've never seen anything like these seats." I knew right then; I needed to go back to Comerica.
The Glory of Comerica
I divide my rankings of favorite ballparks into five categories. Wrigley and Fenway are "Historic Gems." They are in my mind, not able to be ranked since no other ballparks are like them. In many ways, they are perfect and, in many ways, awful. The charm wins out; you have to see them. You just can't adequately rank them.
Then there are the four "Must See Ballparks," Oracle, Petco, PNC, and Camden Yards. These are the best ballparks in baseball. If you love the game, you need to make every effort to see them.
At the bottom of my list are the "Near Misses" and the "Need To Be Replaced." The "Near Misses" are the ones that, for one reason or another, aren't quite what they could be. The term "Need To Be Replaced" is self-explanatory. It's just time to start over.
In the middle are twelve ballparks that "I Wish I Lived Close" to. If I lived near any of them, I'd visit them quite often. It would be a joy of epic dimensions to have the pleasure to sit in any of these ballparks regularly. The atmosphere is terrific, and if you're a baseball fan, you believe that the game itself is perfect. How could you stay away?
As I went from ballpark to ballpark and compiled my list, my rankings changed. Some ballparks would move up, and some would move down. After visiting Comerica, I placed it right at the top of the list.
Sunday at Comerica
Sunday, September 22nd, was the last weekend home game of the Tigers season. The Twins were coming to Detroit for a three-game series starting on Tuesday. After that, the Tigers would end their season in Chicago. I was likely projecting my feelings when I assumed the Tigers and their opponents, the White Sox were tired. I certainly was.
At this point in my journey, I'd traveled an astounding 46,000 miles, and was at the 58th game of my season. Moreover, just in the past eleven days, I'd traveled 6,600 miles. I was at my sixth ballpark in that period and watching my seventh game. I was spent.
Detroit's Coney Dogs
During the game, I had my 42nd hot dog of the season and my umpteenth beer. The dog was one of Detroit's famous "Coney Dogs." However, these "Coneys" should not be confused with Central New York's famous "Coneys." Hoffmann Sausage Co. These are naturally cased white pork and veal sausages, which they call "Snappys." The term "Coney" is a Central New York affectation.22 Whatever you call them, they are outstanding, especially when topped with a beautiful, spicy, german brown mustard.
Detroit's "Coney Dog" is a beef hot dog on a steamed bun with a chili sauce, onion, and yellow mustard. However, it should not be confused with a "chili dog." The Coney's "chili is a loose, almost soupy concoction that traditionally gets an extra-meaty punch from ground beef heart and a variety of spices."23 The term "coney" is from the Greek-American diners, known as "Coney Islands. 24
You can get a "Coney" at Comerica, and they look quite tasty. However, it was my 42nd dog of the season, and I just couldn't indulge totally. I, somewhat sheepishly, asked if I could have a dog with just some mustard and a little onion. They agreed, and I then made my way back to our seats with my chili-less hot dog.
The Game – Celebration
The Tigers were ending a seriously miserable, rebuilding year where they were on their way to losing 114 games.25 The White Sox were not quite as bad and actually on their way to being competitive in years to come. However, this year they would lose 89 games. 26
I was happy to have a few beers and hang out with Mrs. Nomad and my sister. We made a few walks around the park to enjoy the environment and take in all that there was to see.
On one of our trips, we passed a throne with a cardboard Miquel Cabrera celebrating his 2012 Triple Crown. In 2012, Cabrera led the league in home runs (44), RBI's (139), and batting average (.330). He was the first player in forty-five years to lead the league in all three categories. I just had to have my picture taken to celebrate my achievement.
Later, we drove back to Ann Arbor, happy with our accomplishment.
Ten days later, I made my first visit to the Arizona Fall League. It was my final trip of a glorious year.