After Friday's travel and a late-night watching the Braves, my alarm chirped me awake very early Saturday morning. I needed to catch a flight to Dallas/Fort Worth for three games "Deep in the Heart of Texas." The first two with the Rangers in Arlington and then one in Houston to see the Astros. Including Atlanta, I saw five stadiums in four days that represented a few different design concepts. One was a clear favorite.
The reason I scheduled the entire weekend in Arlington was that the Astros wouldn't be in town until Monday. OK, why not stay in Arlington and watch another Rangers game? It would be more convenient than flying back to Houston later.
However, I must have good Karma. It poured on Saturday; the game was delayed a few hours. So much so, I lasted just a few innings. I went back on Sunday, a great day with beautiful weather.
Five Stadiums
During the four-day trip to Atlanta, Arlington, and Houston, I visited five stadiums. Each had a different "something-something."
SunTrust Park
My first stop was Atlanta's SunTrust Park. As mentioned in my previous post, SunTrust is a charming new ballpark where they built a community "Boomtown," adding fun and commercial activity. Its biggest fault is that they encourage racially insensitive behavior that has no place in polite society. All other esthetics are excellent, except they are new, and the feel walking through Boomtown is like walking down Main Street at Disney. Fun, but a tad artificial.
Minute Maid Park
My last stop was Houston's Minute Maid Park. It was quite the opposite of SunTrust as it is firmly ensconced in Downtown Houston. Moreover, it incorporates the century-old Union Station, and so it fits somewhat nicely into the neighborhood. Inside, Union Station's main concourse is used as Minute Maid's main lobby. Brick and other design elements help retain the Union Station flavor throughout the first floor of the stadium. The Astros didn't need to build a Boomtown, the facilities were already there. It does not feel artificial. In short, I liked it a lot.
In the middle of the trip were three stadiums in Arlington.
AT&T Stadium
The Dallas Cowboys play in AT&T Stadium – sorry, l know football should not be mentioned during baseball season. However, AT&T was near my hotel and Globe Life Park – where the Texas Rangers play. It looms over the landscape like a huge, football-shaped edifice that reminds me of an alien spaceship landing in the middle of a parking lot in suburbia. I imagine scientists, soldiers, and citizens surrounding it looking so small in comparison. They have this look of wonder. "What is it?" "Are there living beings inside?" "Can they communicate?" "Do they mean good or harm?"
Globe Life Park
If you stand in the right spot, you can slowly turn your head and scan from AT&T to Globe Life Park where the Rangers play. It has the standard retro look, a lot of brick with engraved cement ornamentation around the exterior. There are old-time gates reminiscent of Camden Yards. However, it looks as out of place as AT&T does. While AT&T is this big monstrous thing, Globe Life seems like a quaint downtown ballpark. But there is no downtown. You want to see other similar buildings around it. Buildings that look like Globe Life don't fit if they are standing on their own in the middle of an open area. Boomtown helps Sun Trust fit into the area. The downtown and Union Station makes Minute Maid fit in. Globe Life needs something.
Actually, it doesn't need anything, because it is being replaced at the end of the year, but the point is still appropriate.
The New One – Also Globe Life?
They're building Globe Life's replacement across the street. The new ballpark planned to open next year is located between Globe Life and AT&T about a mile away. It will connect to an entertainment, retail, and lodging area somewhat like Boomtown, called "Texas Live." 1
Texas Live may help give the new stadium the context, that the current Globe Life Stadium doesn't have. However, I sense the same artificial atmosphere that SunTrust Park has.
And then there is the juxtaposition between it and AT&T Stadium which is just odd. There will likely be no commonality between the two. Moreover, it represents the difference between football and baseball. Football is trying to represent the space age future. Baseball is beholden to its traditions.
So, "All things considered, how was the play, Mrs. Lincoln?" Here's how the three days went:
Saturday, Cardinals at Rangers
Morning Travel
The only thing I don't like about my summer-long journey is the early morning flights when I have a late afternoon or night game. Saturday was one of those days. I left my hotel in Atlanta at around 6:00AM to catch an 8:45AM flight. It's a good 30-minute drive to the airport, and I needed to get gas and drop off the rental car.
I landed in Dallas around 11:00 AM. This was the weekend when tornados were blowing through the area. When I got outside the airport, it was cloudy, windy and looked like rain.
Pouring Rain
I worked on a blog post in the few hours I had at the hotel, and the games start time at 3:15. While I worked, it poured, stopped, and poured again. Since I had tickets for Sunday's game, I was more than happy to hear a rain out announcement. I'm okay with Sunday doubleheaders.
Finally, it was clear that the game was going to happen, so I made my way to the hotel's ballpark trolley stop. The little bus travels around the hotels and drops people off at the stadium. You can also return on the trolley if you would like. The trolley took a winding route to the ballpark – past AT&T Stadium and the new stadium's construction site. As we went, the clouds started to darken. By the time we arrived, it was pouring. The rain was coming down in proverbial sheets.
So, we ran across the street to the ballpark, and even though I had a waterproof jacket and hood, I was soaked when I got inside. Then I waited for a little over two hours for the game to start.
First Impressions and Food
During the wait, I bought my hat, took my selfie and explored the park. My first opinion was that Globe Life was kind of nice. So, I didn't understand why the new one was needed. Interestingly, the promenades are unique in that they are very open with the metal beams and supports exposed. While there are some food places built into the center area, the promenade is also scattered with kiosks. For example, the team store is in one of the booths.
"Texas Big Dogs" is in another kiosk. This is where I got a "Jumbo Hot Dog" with grilled onions. No brown mustard (I'm getting used to it), but "Sweet Baby Rays" barbecue sauce was a nice touch. My "Jumbo Hot Dog" was the first of two good hot dogs I had at Globe Life. On Sunday, I tried the "RWB Dog," more on that one later.
The "Jumbo" had an excellent hot dog taste, was nicely grilled on a tasty bun and the onions, barbecue sauce, and the basic yellow mustard made for a nice lunch.
Later I found my way up to the second level where my seats were. It was still raining so I drowned my sorrows in a glass of bourbon at the Shock Top Bar while I waited. Truth be known, I didn't have any "sorrows," but it was a great day to pretend I did. And, it seemed to make the bourbon better.
Finally, the rain stopped. I grabbed a brisket sandwich – c'mon it's Texas, you must get some barbeque – and found my outfield seat.
Frito Chili Pie
Something I was tempted to try was the "Frito Chili Pie." For those not from Texas, the "Frito Chili Pie" is a bag of Fritos topped with chili, shredded cheese, diced onions, and jalapeños. It's served in the Fritos bag, and you go at it with a plastic fork and a few beers.
When I go back to Arlington to see the new ballpark next year, I'm going to have to have one. It seems like perfect ballpark food. I'll make an appointment with a gastroenterologist just in case the experience doesn't go well.
A Short Stay
I spent a few innings in my outfield seat, still wondering why they would replace such a cute little ballpark. The park is a bit odd, with different features that mimic the "Jewel Box" or classic parks. There is a roofed home run porch in right that is like the one in old Tiger Stadium. Then there is a white frieze surrounding the upper deck like Yankee Stadium. The outfield has "nooks and crannies" like Ebbets Field. There are also arched windows like Comisky Park.2 I thought there was a little Polo Grounds influence, but what do I know?
After a few innings, I was spent and had no reason to stay. I'm not a Rangers fan, there is only so much I can eat and drink and was tired from the early start. Moreover, I had tickets for Sunday. I left and walked back to the hotel.
Sunday, Cardinals at Rangers
It was as beautiful on Sunday as it was miserable on Saturday. Sunny, warm but not hot, not a cloud in the sky. Before each game, they publicly reset a sign that lists the number of games left in the old ballpark. They have a local celebrity or former player pull the old number off, exposing the new one. As they did so on Sunday, they said of the new domed park "on days like today, the roof will be open."
I walked over early to explore the parts of the stadium that I missed the day before and have my scorecard filled out in time for the 2:00 start.
The Duke Snider Story Reenacted
My father used to tell a story about how he and I met Duke Snider in a San Francisco hotel. I was four and a half so I can't say I remember the event. If it happened, it was 57 years ago. However, if this makes sense, I remember remembering it. When I was younger, I was pretty sure it happened.
The story goes that my dad saw one of his Dodger heroes and introduced me "Raymond, this is Duke Snider." Duke bent down, shook my little hand, and said: "I'm number four." In turn, I responded, "I'm four and a half." My father often told the story for the rest of his life.
So, almost 60 years later, I'm walking to a ballpark that had not been built when the story took place. As I'm walking, I see a family. Dad is holding his young son's hand. The son is wearing an Albert Pujols St. Louis Cardinal jersey with the famous number 5 on the back. How did he get the jersey? I wonder. The boy wasn't even born when Pujols played in St. Louis. So, as I pass, I say, "Interesting shirt." The father responds with something like "yes, a classic." Instead of asking about where the shirt came from, I ask the boy, "are you number 5?" The boy responds, "I'm four," as he holds up four fingers.
In baseball, some things never change. It used to be fathers and sons going to games. Now it's any combination of parents and kids, but the experience is the same.
The Shannon Stone Statue
Of course, and unfortunately, there is another side to the father and son saga. At the Home Plate Entrance is the statue in honor of Shannon Stone and his son. Stone is the man who accidentally fell to his death when he leaned over a railing to catch a ball tossed to him by Rangers player, Josh Hamilton. A sad and senseless tragedy. 3
I'm not sure what to think of it. Stone needs to be remembered, but it's hard not to believe that the statue in some way inadvertently trivializes his death. I'm left with feelings about park safety, life is short, live life to its fullest, etc. None of these opinions represent the extent of the tragedy.
Now I Understand the Replacement
I had a better chance to see more of Globe Life now that it wasn't raining. First, I made my way to the centerfield seating area where there is a bit of a food court. In comparison, the newer ballparks have bigger areas and thus more revenue opportunities and are more comfortable for the fans. This was my first sense that the ballpark might have outgrown its usefulness.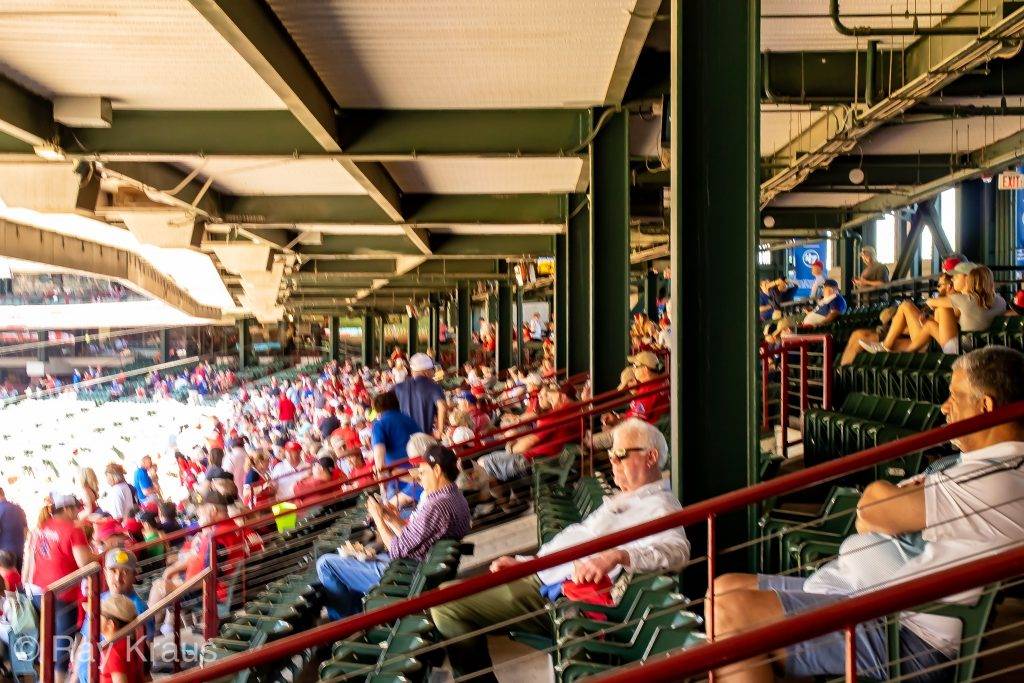 Later, when I arrived at my seat, I understood the issue, at least from my point of view. I was on the third base side, under an overhand and realized that there were poles that could block one's perspective. Even in the retro ballpark era, how in the world can you open a stadium in 1994 that has poles? It was like I was in the first iteration of Yankee Stadium when I was very young.
Of course, The Rangers likely have a different reason. They are likely building their new stadium because of the revenue possibilities that Texas Live offers. Additionally, the dome will improve the chances of getting fans into the ballpark on hot Texas afternoons. Hopefully, there won't be any seats with views obstructed by poles.
Nolan Ryan and The RWB Dog
Out in the centerfield area is a statue of Nolan Ryan waving his cap. An excellent place for families to have their picture taken. It's a testament to Ryan's longevity and skill that his number is retired in Arlington and Houston.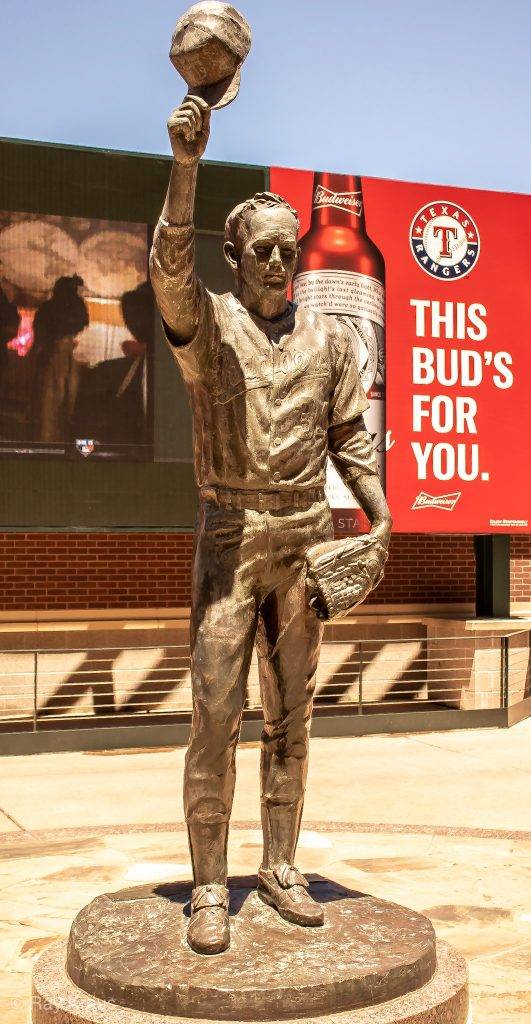 Near Ryan's statue is one of the American Dog stands home of the famous RWB (Red White and Blue) Dog. A regular size dog in a reasonable bun with a red pepper relish, chopped onions, and a blue pickle relish. Surprisingly good – I didn't even think of mustard, although I did wonder about blue pickle relish.
The Game
As always, I assume that there are better writers than I who report on the games I see, so I don't spend too much time writing about them. Moreover, I'm having problems releasing posts in a timely fashion, so I doubt a game from mid-May is interesting in mid-June. The review of the game is here.
However, it was exciting:
The Cardinals jumped ahead in the first scoring two runs on a Paul DeJong double. In the bottom of the inning, Shin-Soo Choo homered to make the score 2 -1.
Hunter Pence doubled in the bottom of the fourth to tie the score 2 – 2.
The score remained tied until the bottom of the eighth when Danny Santana homered. I had the old "Okay, too bad Cardinals, three outs and the Rangers will win, what's for dinner?" feeling.
Then, in the ninth inning, Dexter Fowler smacked a home run to the short porch in right. Tie score, extra innings.
In the top of the tenth, the Cardinals went ahead on a sacrifice fly, Cardinals 4 – Rangers 3.
The Rangers promptly came back and scored two in the bottom of the tenth to win the game.
Everyone went home happy, and I was off to Houston.
Monday, Chicago White Sox at Astros
Early the next morning, I Ubered back to the airport to pick up a rental car and headed over to Houston. It's roughly a 4-hour drive. I had to deal with some traffic, so it took a bit longer, but I made it to the hotel in good shape. A couple of hours later, I walked over to the ballpark.
The Game
In contrast to the competitive affair on Sunday in Arlington, Monday's game in Houston was an example of pitching dominance. The Astro's Brad Peacock scattered six hits and shut the White Sox out. The final score was 3 – 0. You can read more about it here.
The Park and The Food
As I said in the introduction, I really enjoyed Minute Maid Park. I like how it fits into the neighborhood and how it incorporates 100-year-old Union Station. So, I spent a couple of hours walking around the park. I did the full circuit around the park, enjoying the atmosphere, the hall of fame, and murals on the wall. All the while, I was trying to decide what to eat.
In prepping for my visit, I read about the "Ken Hoffman Dog" and thought why not. Ken Hoffman is a columnist who "covers the quirky side of Houston." 4 I'm not sure why they named a hot dog after Mr. Hoffman. Moreover, I didn't love the dog. It's very basic and pre-made, served in a plastic container, pretty dull. I ranked it toward the bottom of my list.
There's a lot of good food at Minute Maid, and I, unfortunately, fell into this no man's hot dog land. My choices were either the elaborate dogs or the basic Ken Hoffman dog. So, to keep with my hot dog tradition I tried the Ken Hoffman dog; this time it didn't work out. That's baseball.
I made up for the Ken Hoffman Dog diversion with a chopped beef sandwich – yes more barbecue, and on the way out some soft ice cream.
My Houston experience was somewhat like my San Diego experience. I loved the ballpark, it's in a cool part of town, and the team is fun to watch. It's the kind of place I hope to return to with Mrs. Nomad and spend a few days.
My next stop was Baltimore and a whole different set of issues.
Thanks for reading my article.
If you would like to be notified when I publish new pieces, please register for updates.