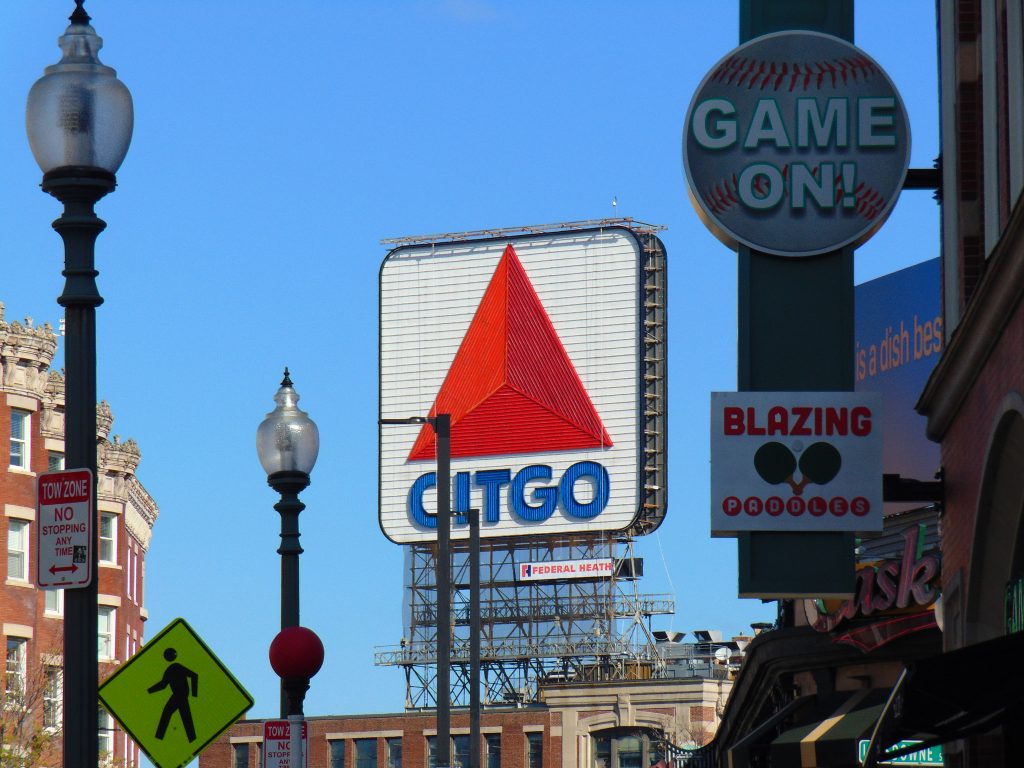 I've always been intrigued by Thomas Boswell's question, "Does baseball, like a liquid, take the shape of its container?" From the ballparks that I have seen, I'll argue that the game changes as I go from park to park. The serene feeling I've had, looking over San Francisco Bay is different than the cold austerity of Yankee Stadium. I love the intimacy and the food at Citi Field – not to mention my Metsies. Fenway can be uncomfortable, but the Monster and the Citgo sign are beautiful. I love the idea of a row of vendors offering "street meat" outside, if not the quality of the food. Camden Yards is beautiful; the warehouse on Eutaw Street in right field enhances its charm. A ballpark's dimensions, its signs, the height of its walls, and the view from the seats define a unique experience.
My Stadium Travels
As I mentioned in a previous post, I started picking up parks as I traveled on business. A presentation at a conference in San Francisco gave me the opportunity to visit and PAC Bell (now Oracle), for the first time. I returned many times after when I visited my company's San Francisco's office. Similarly, I was able to go to Safeco Field when I was in Seattle for meetings at Microsoft. I've been to North Little Rock's Dickey-Stephens Park when I was in town for business. Family adventures took me to Comerica in Detroit, Cleveland, Pittsburgh, and Baltimore. It follows that my first thought when we plan a trip tends to be "is the home team in town and do we have time to go?"
For example, I never miss a chance to go to Camden Yards when I am in Baltimore. I've been there when the Orioles were kind of good and when they were kind of bad. However, I've never been when the Orioles were awful – I guess this is the year for that experience.
The last time I had the chance to go was when a friend's son had his bar mitzvah, in Philadelphia. Why I didn't think of going to see the Phillies and not the Orioles explains a lot about me. It might say a lot about the Phillies as well. Anyway, we flew into Baltimore on Friday, drove to Philadelphia Saturday morning and were back at Camden Yards that evening. It was the night Manny Ramirez hit his 500th home run. Doesn't everyone travel with baseball as the priority?
We try to go to Citi Field every year. On one July 4th, we even made our only visit to the travesty that is the "NEW" Yankee Stadium.
Stadiums Should Recognize a Team's History
I'll fully explain my issues with "the house that George built" in a future post. For this discussion, I'll state that it violates a key aspect of what I look for in a ballpark. I need a ballpark to celebrate it's team's history.
Yes, the Stadium has Monument Park and banners for all the Yankee greats, and frankly, it's somewhat greats. The too long list of retired numbers is there for all to see. However, the fact that it is across the street from where the real one was, is a nonstarter for me. The Yankees should be playing on the field where the Babe hit home runs, where DiMaggio patrolled center field and where Gehrig proclaimed that he was "the luckiest man on the face of the earth."
In contrast, I like that the Red Sox and Cubs have maintained the charm of their beautiful old ball yards. I also love that there are statues of Roberto Clemente and Willie Stargell at PNC Park in Pittsburgh. I also appreciate PNC's 21-foot high wall in right field that remembers Clemente's jersey number. Yes, I even like that the Mets celebrate their National League heritage in Citi Field. Citi's exterior and rotunda are reminiscent of Ebbets Field; it's green seats after the Polo Grounds.
A Ballpark Should Have Good, Unique Food
I've enjoyed food almost as long as I've enjoyed baseball. As such, I don't want a cold, mushy hot dog with a crustless bun. I want to try food that is native to the home city and thus the stadium. My goal is to try things like the pierogies in Pittsburgh, the crab sandwich and garlic fries in San Francisco, or street meat in Boston. Almost anything in Citi Field I've tried has been great – Arancini Brothers, Pat LaFrieda Steak sandwiches, the Shake Shack, Keith's Grill, or Fuku Chicken. Citi's food choices reflect New York City's many cultures and cuisines.
What about the traditional hot dog? If I have a hot dog, it needs to be one that the ballpark is known for, like the famous "Dodger Dog" or Milwaukee's Brats. While the hot dogs in Cleveland didn't make this list, it's unique brown mustard makes it something to try.
I'll need to plan my food strategy long before I get to each ballpark. There is only so much that I can eat – I think. So I need to know what the options are so I can make the right selections.
My Modus Operandi
My ballpark experience can start outside the ballpark. For example, I want to walk across the Clemente Bridge to get to PNC Park in Pittsburg. My modus operandi is to be near the front of the line when the doors open. I like to walk around the park, take in the field from all angles. I want to get a feel for the different parts of the park and see what makes it unique. For example, Yankee Stadium's monument park, PNC's Highmark Legacy Square (honoring Negro League Baseball), or Oracle's view of San Francisco Bay. I need to see the essential players' statues, the retired numbers and if there is time, the Hall of Fame. My souvenir from the Team Store is a fitted New Era cap that the home team wears. My goal is to have one hat from each current stadium when the trip is over.
By the time the game starts, I've got a feel for the place, and I am enjoying the unique atmosphere. I'm well fed, and I am ready for the game to start.
Thanks for reading my article.
If you would like to be notified when I publish new pieces, please register for updates.