Saturday morning was cloudy – and the clouds never really went away. Not an auspicious start to Spring Training in normally sunny Florida. We found the Beatles station on Sirius as we made the short drive from the West Palm to Jupiter. Along the way, we compared notes about our favorite albums — we both like their middle period starting with Revolver. However, I lose a little interest around Sgt. Pepper, not enough guitar – too much orchestration.
Then the subject turned to George Harrison, All Things Must Pass and one of my favorites – "Beware of Darkness":
Watch out now, take care
Beware of falling swingers
Dropping all around you
The pain that often mingles
In your fingertips
Beware of darkness

Watch out now, take care
Beware of the thoughts that linger
Winding up inside your head
The hopelessness around you
In the dead of night

Beware of sadness
It can hit you
It can hurt you
Make you sore and what is more
That is not what you are here for

George Harrison1
It occurred to me that the long winter was over and was time to look ahead. What started with the indifference displayed as the powers that be laid me off — the bleakness and dread that followed was over. It's now spring, the season of baseball's resurrection. "Beware of Darkness" indeed!
Roger Dean Chevrolet Stadium
Home for the week is Roger Dean Chevrolet Stadium – a nice little ballpark in Abacoa – a seemingly manufactured town in the middle of Jupiter. Yes, I am a Mets fan, but as I mentioned in a previous post, Jupiter works for us. We'll see the Mets play three times this week along with the Cardinals, Marlins, Nats, Phillies and Yankees.
Roger Dean Stadium was built in 1998, for $28M which equates to $43M in today's dollars. It is one of only two stadiums in Florida to host two major league teams – the other is FITTEAM Ballpark of the Palm Beaches which opened in 2017. 2 Since the two stadiums are only roughly 20 minutes apart, there are four teams to choose from. The Cardinals and the Marlins in Jupiter and the Nationals and Astros in West Palm Beach. Also, the Mets are only 30 minutes north of Jupiter so there is a critical mass of five teams in a small area.
The entire Roger Dean Chevrolet Stadium complex is about 100 acres; each team has six practice fields each. Their two separate clubhouses border the outfield fences making a nice target for the hitters.
The Cardinals and Expos were the original tenants. The Cardinals moved from St. Petersburg because MLB agreed to let the Tampa Bay Rays train there instead. In 2002, the Marlins replaced the Expos as part of their sale to Jeffry Loria.
Saturday – Mets vs. Marlins "WTF Seth Lugo?"
I'm a superstitious Mets fan – I'm sure others are as well. The deal is, if things are going well, don't move. Don't go to the bathroom, don't get something to eat – don't move! It's spring training, I'm not in true game form and I simply forgot.
Ahmed Rosario

Michael Conforto
Everything seemed fine, the game started under cloudy skies but only a little drizzle at times. I was pleased that the Mets jumped ahead 6 – 0. Jason Vargas was throwing well and Conforto was raking. He hit a two-run blast two get the scoring started. Along the way, the Mets implemented a "hit and run" possibly a second one as well – I honestly didn't know that the hit and run was used anymore. They also attempted a squeeze bunt.
Fun While Exchanging Lineups

Robinson Cano
A "Dean Dog"
Then I forgot the admonition – "don't move if things are going good." I was hungry and got a wonderful "Dean Dog" and all hell broke loose. A "Dean Dog" is a classic hot dog. It is 100% beef and cooked on a griddle so it gets nice and crunchy on the outside. Although it's optional, I recommend the sauteed onions and peppers. Finally, brown deli mustard is available. Need I say more? Anyway, during the season I'm going to have to remember to not jinx fate by breaking the spell with food etc. Even if it is for a great hot dog.
The Dean Dog

Blood Orange Sunset IPA
Of course, Seth Lugo didn't help. In one inning he allowed three hits and four runs. He also made a nice little catch on a short pop up but promptly threw the ball past first base letting the runners advance.
Refreshments and Dinner
At that point, the clouds started to really darken, and we made our getaway: out the stadium and down the street to the Civil Society Brewing Company where we sat through the resulting downpour drinking some interesting IPAs created on site.
Later, we ate dinner at Captain Charlie's Reef Grill – a place that should not be missed. We met Ross, the owner a few years ago and make a point to reserve seats at his station. Then we let him choose a series of small plates that are delicious. Everyone should go and skip the large plates for a series of assorted small ones.
Not a bad first day. "Beware of Darkness" indeed.
Sunday – Cardinals vs. Marlins
The weather was much improved for day two – St. Patricks Day. The Cardinals wore green, the Marlins wore pastel blue. I sported my old green and orange Mets cap bought six years ago on another spring training St. Patricks Day game.
We worked out in the morning – trying to absolve some of the sins from the first day's eating and beer drinking. Then we headed for Roger Dean – that's just about all I have.
The Marlins actually no-hit the Cardinals for eight innings. Yes, that never happens – teams don't get no-hit in spring training. However, Trevor Richards started and pitched six innings of no-hit ball, striking out six and not walking anyone. Drew Steckenrider and Austin Brice followed with an inning each of no-hit ball. In the top of the ninth, Dexter Fowler hit a sharp single to right off Tayron Guerrero, Paul Goldschmidt did the same and we headed for the hotel pool.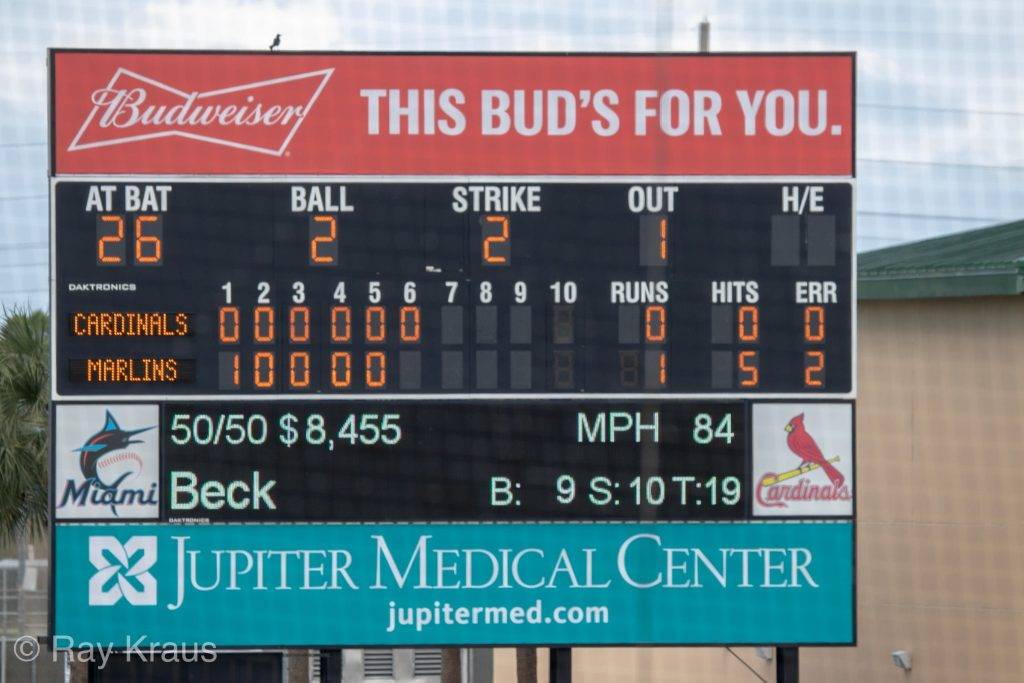 Under the heading – "Utter Minutiae:"
Could anyone design uglier socks and hopefully they are only worn for St. Patricks Day? Although why would anyone want to offend St. Patrick with said socks?
Ugly Socks Cardinal Style

Ugly Socks Marlins Style
We had a "Mad Hungarian" sighting.
And saw Derick Jeter in the flesh – seemingly pleased to own the Marlins.