Yes, and emphatically, Cleveland Rocks!
Cleveland is one of those underrated "rust belt" cities that I never thought got its due. Some only know it as – "the mistake on the lake" where the Cuyahoga River caught fire. However, I always found it to be a cool city with great restaurants, nice places to stay, and friendly people. Finally, Cleveland is a great baseball city.
I've been to Cleveland and Progressive Field many times. It was where my father and I ended our baseball journey that started in 1964. As the story goes, it began with him leading me around the ballpark when I was six or so. It ended with me pushing his wheelchair almost 50 years later. He moved to Cleveland – his wife's hometown – in the early 2000s. I worked for a company based outside of Cleveland and was there often.
My business travel enabled us to find our way to the ballpark many times.
With that said, I had only been back to Cleveland and Progressive Field a few times since we buried dad. This trip was a revelation. Could it be that the city was even better than I remembered? I've always liked Progressive, but in the five years since I've been there, it seems to have gotten even better.
Rock & Roll
Cleveland has been associated with Rock & Roll ever since disc jockey, Alan Freed popularized the term there. 1 The city incorporated the phrase into its branding when the Rock & Roll Hall of Fame opened there. Not surprisingly, the All-Star Game captured the city's Rock and Roll lineage.
Each day, I wanted to get down to the city early so I could walk around and take pictures. On Tuesday, as I was entering Public Square – the centerpiece of downtown – I found a kiosk that was displaying Fender guitars painted to represent each team. I especially loved the Baltimore Orioles one that included Baltimore's favorite (rock and roll) son, Frank Zappa. He is a personal favorite.
Naturally, I found the Mets guitar fun. I'm a fan and love all things Mets.
Cincinnati's was designed to recognize the 150th anniversary of professional baseball that originated there in 1869. The Reds have been celebrating the first professional baseball team (the Cincinnati Red Stockings) all season. However, it's interesting that the Reds are not descendants of the Red Stockings, the Atlanta Braves are. So in a sense, the Reds are celebrating the Braves' birth.
PlayBall Park
I thought that MLB did a credible job selling the joys of baseball at the London Series, but I wasn't blown away. I didn't think there were enough displays or activities, and there certainly wasn't a wide variety of merchandise. However, Cleveland was another story.
In Cleveland, Major League Baseball and PlayBall took over the convention center and two adjoining park areas for kids activities, displays and merchandise.
Outside Activities
The outside activities tended to be baseball oriented, as one would expect. But there was also fun things like a zip line that sent riders over ann entire city block. It started at St. Clair Avenue and ended across Lakeside Avenue.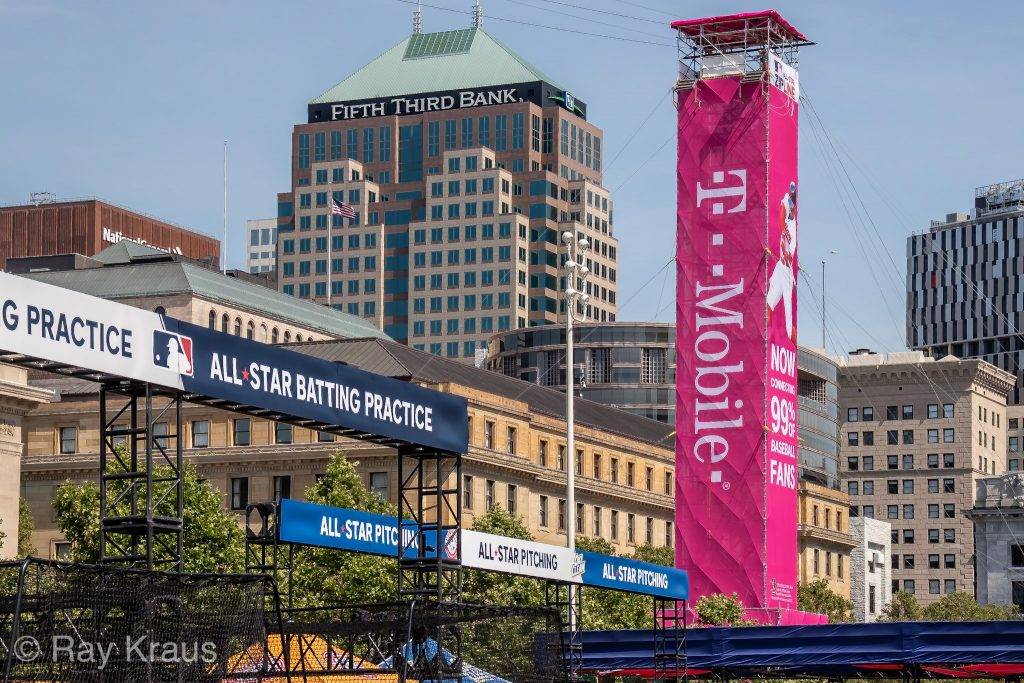 Inside the Convention Center
In the convention center, there were areas that explored the Hall of Fame, the Negro Leagues, Women's Baseball, and merchandise for sale. Near the merchandise area was a display of each cap for each organization. The major league cap for each team was at the top of each column and then below were caps for each minor league team in their system. Pretty cool for a cap collector.
The Home Run Derby and All-Star Game
Progressive Field is just a short walk from the convention center. This ballpark was, of course, the focus of my trip.
As is my normal practice, I'm not going to bore the you by telling them things they likely saw or that sportswriters who were closer to the action can write about. These are my impressions of the experience. However, I'll also be honest and say that I don't tend to watch these events at home. I lost interest in the All-Star Game when each team spent more effort getting all players in the game and less time trying to win the game. So I didn't expect to stay for the entire game and didn't think I'd love the Derby. I was wrong on both accounts.
The Home Run Derby
I'm not going to lie, I wanted Pete Alonso to win. I'm a Mets fan and he's my home town guy. I also wanted Jacob DeGrom and Jeff McNeil to do well in the game but I'm getting ahead of myself.
My reactions to the Derby are:
I understand that there are people who don't like the current format. I loved it and found it much more compelling than the old one that was used through 2014.
The best view is from the seats facing the outfield. Unfortunately, my seat was out in left field near the foul pole. My location was very Bartmanesque in that it was right against the railing. To watch the action, I had to swing my head around to watch the flight of the hit ball. However, because the balls were hit so rapidly, I lost track of how many home runs were hit.
The fact that all of Alonso's wins were walk-offs didn't excite me, as it seems to have others, other than there was a lot of suspense as to whether he could exceed his opponent's total.
The Vlad Jr., Joc Pederson match up was awesome. After each round, my section mates and I would just look at each other in disbelief. How long would it go on?
Follow this link to read more.
The All-Star Game
The game was compelling enough to stay until the end. It was a well-played, close game with the American League winning 4 – 3. Nothing major happened, it was just an exciting game and as I note below there were some cool moments. Also, I was not as distracted by all the player changes as I thought I might be.
Nod to Cleveland
I especially liked and appreciated how American League manager, Alex Cora, and Major League Baseball honored Cleveland:
The pre-game tribute to one time Cleveland manager, the late Frank Robinson was fitting since he was the first person of color to manage a major game and the breakthrough was with the Indians.
Former Indian, Michael Brantly who left the team in the off-season as and signed as a free agent, with the Astros started the game and received a great ovation.
Including Carlos Corrasco in the "Stand Up to Cancer" fifth inning observation was poignant and well-received.
Sending ex-Indian, honorary coach and future Hall of Famer CC Sabathia out to talk to Aroldis Champman was a nice touch. The crowd was able to show their appreciation for his years in Cleveland.
Sabathia also threw out the first pitch to another former Indian, Sandy Alomar Jr. in another nod to Cleveland.
Finally, MLB awarded Cleveland pitcher, Shane Bieber the MVP award, because…I honestly don't know why. Other than, of course, he plays for Cleveland. Yes, he struck out the side in the fifth and the crowd got excited, but Aroldis Chapman did the same in the ninth to save the game. However, they weren't going to give the award to Chapman who is now a Yankee. Moreover, he helped defeat the Indians in the 2016 World Series when he was with the Cubs. My choice was Texas' Joey Gallo who hit the game-winning home run.
Other Moments
It was moving to see Mike Trout and Tommy La Stella wear their teammate Tyler Skaggs' number. Twenty-seven-year-old Skaggs passed away suddenly, a week before the game.
Jacob DeGrom was Jacob Degrom, retiring the side in seven pitches. He also faced Mike Trout – possibly the premier matchup and induced a popup in two pitches. It was almost as impressive as his 2016 appearance where he struck out the side on ten pitches.
Scoreboard Issues?
The scoreboard operator confused a few players and pictures – fun.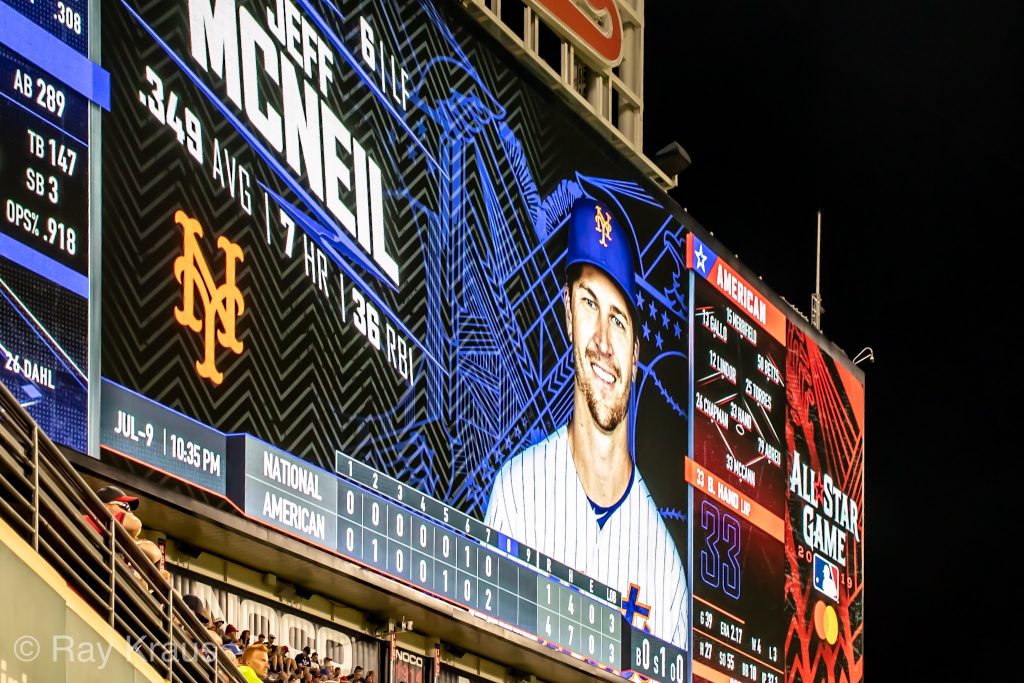 Progressive Field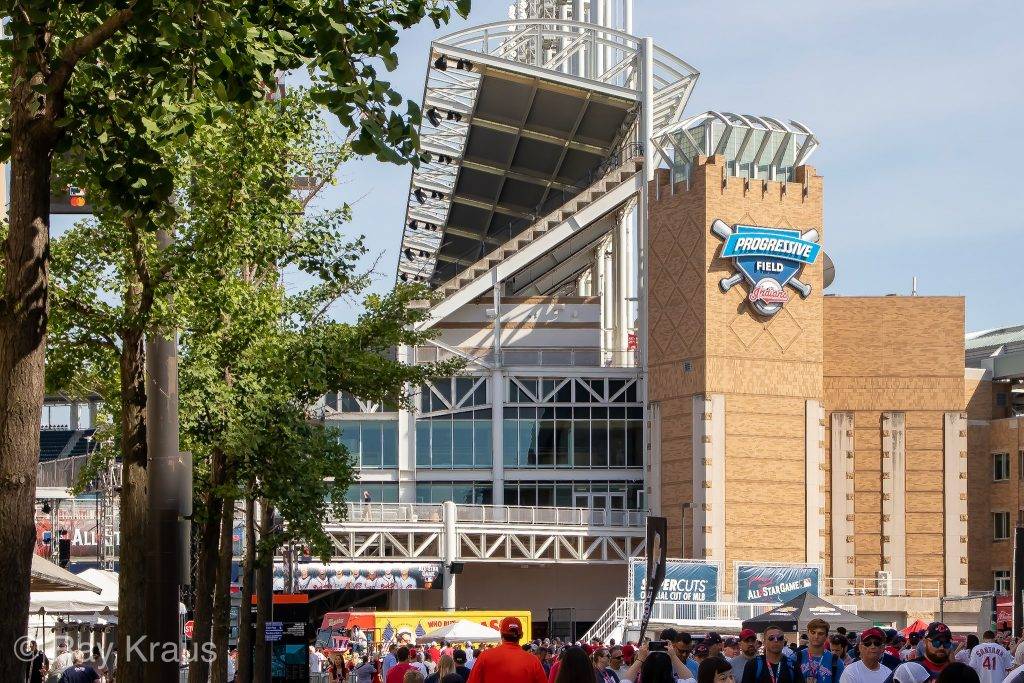 People seem to underrate Progressive Field like they do Cleveland. However, its high on my list. Moreover, I think it's improved since I used to go with my dad. There are much better food and beer choices. The Indians celebrate their long history well. The stadium is comfortable with good sightlines and a great view of the city. What's not to like? It reminds me of San Diego's Petco Park on a minor scale.
I'll also congratulate Cleveland and the Indians for removing the presence of "Chief Wahoo" from the entire stadium. "Chief Wahoo" was a much-criticized caricature of a Native American tribal chief. The image was officially introduced in 1948 and adorned hats, uniforms and all other paraphernalia associated with the Indians.2 In stark contrast to Atlanta's SunTrust Park where the "Tomahawk Chop" was ubiquitous, I didn't see any reference to the old logo.
Most of all, I love the fans. The joy of baseball is that you can make friends at the ballpark. I had the same seat for all the events – Sunday's Celebrity Softball Game and Futures Game, Monday's Home Run Derby, and Tuesday's Game. The people around me did as well and we became fast friends. Others asked, "how long have you guys known each other?" They were surprised when we said we just met.
Food- Hot Dogs
Cleveland is a good eating city, with great restaurants representing many cultures. There are and at least a dozen restaurants are featured at Progressive Field. Then there are other food stands that are specific to the ballpark. I don't recall this type of food community involvement on my previous visits, a few years ago. Back then, there was more basic fare – Subway was my diabetic father's favorite.
Of course, there has always been Cleveland's not so secret weapon "Bertman Original Ball Park Mustard;" a spicy brown mustard that is a good as they get.
Hot Dogs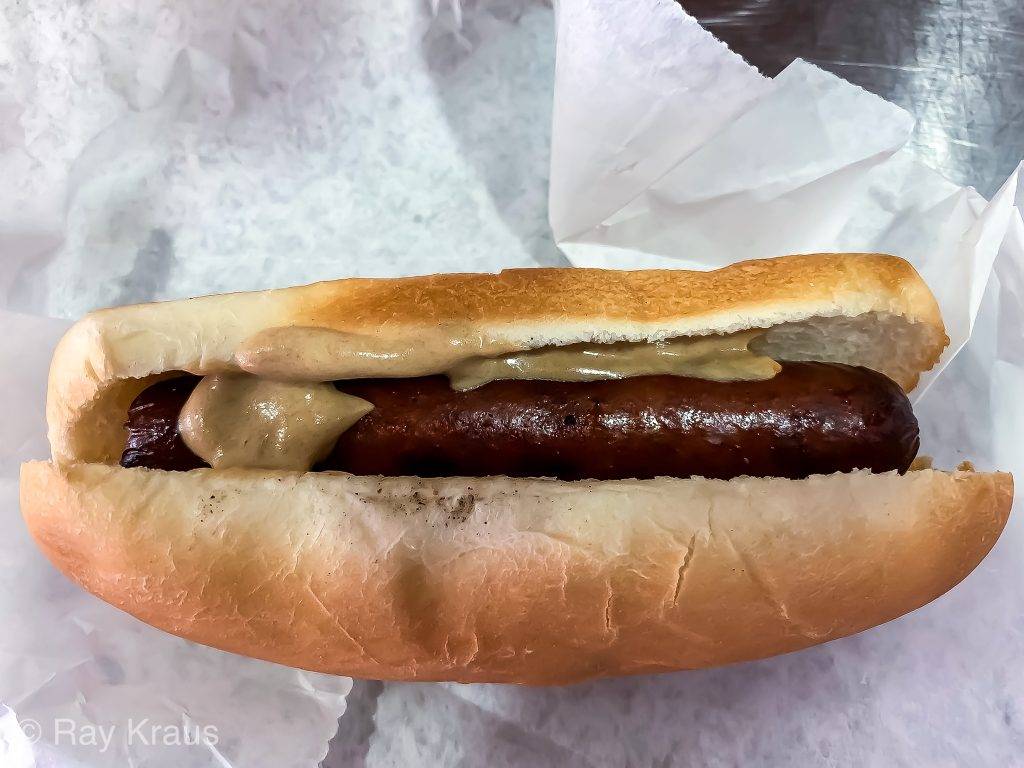 The hot dog choice is a very important one. So I walked around the stadium looking for the right dog to try. On the first night, I tried "Charred Dogs." Anyone who understands my criteria and seen my rankings knows that I appreciate a crispy charred hot dog. This one didn't disappoint.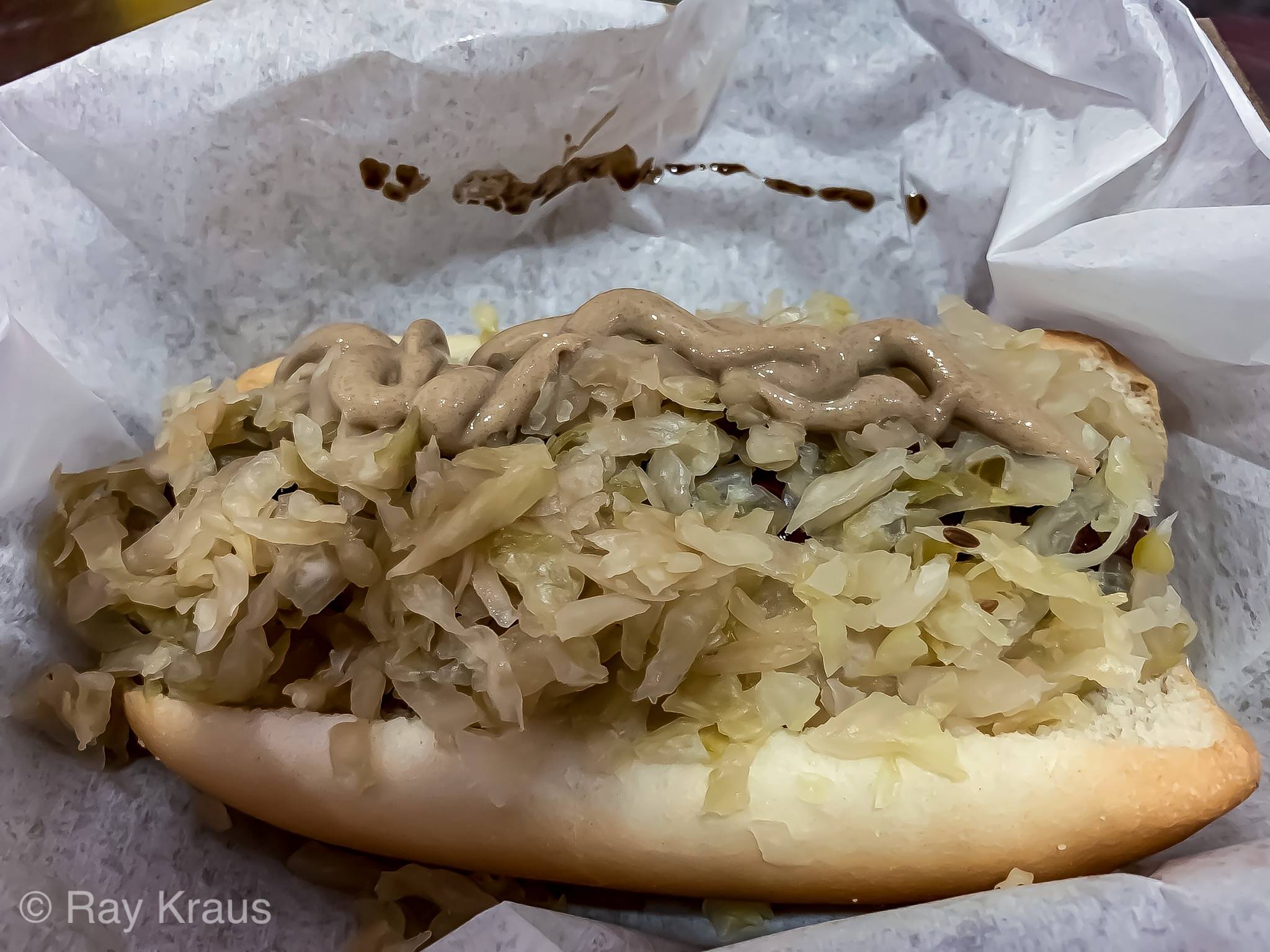 The second night was equally good. This time, I tried the Cleveland Kraut Classic Caraway dog. Cleveland Kraut is a local supplier of "the best tasting and crunchiest sauerkraut in the world." When you combine their kraut with the Bertman's brown mustard, you're in dog heaven. I ranked it slightly behind the Charred Dog because I liked the bun and dog a little better on the first night. It was pretty much a dead heat.
Beer
OK beer… the Great Lakes Brewing Company has a stand in the park where you can try their different offerings. There are other craft options around the park as well. I settled on Fat Head's Brewery since I was intrigued by the "Sunshine Daydream IPA." I asked the people at the stand if the name was an homage to the Grateful Dead song of the same name. They didn't know, but I gave it a shot and liked it a lot. I liked it so much, that I went back a few more times over the two days.
All in all, it was a fun time. I drove home and prepared for a trip to the midwest. My first visit to Wrigley Field with trips to Target Field, Miller Park, and Guaranteed Rate Field. The last one just rolls off the tongue, doesn't it?