Mrs. Nomad and I made the Subway Series at Citi the last stop on my Midwest Odyssey. The two-week-long odyssey took me through St. Louis, Kansas City, Field of Dreams, the College World Series, and the London Series. Now I was back in the States at Citi Field – a place I refer to as "Fred Wilpon's Brooklyn Dodgers Obsession" – with Mrs. Nomad.
It's become an annual Nomad family tradition to go to Citi Field. We're Mets fans and its a great place to see a game or two. I rank it high on my list of best ballparks. Citi may also be the best ballpark for food in the major leagues. Unfortunately, as much as I love the place and the team, this may be my last visit to Citi for what could be a very long time. As I will explain in my next post, I'm saying Farewell to Citi.
Mets Fan For Life
I've been a Mets fan most of my life. As I recount in my "Why Collect Ballparks," I've been intrigued with this beguiling team since my father took me to Shea Stadium for the first time in 1965. My family had moved to St. Petersburg, Florida and the Mets opened a training complex across from my school, Azalea Junior High. I remember riding my bicycle to watch them play the newly minted Montreal Expos in 1969. Later that year, I was in Mr. Wilson's Earth Science class when the Principal announced that this team of assumed misfits had won the World Series.
A few years later, we moved back to New York City and I started following my cousin and sister to Shea Stadium and the rest is Nomad history – check out the post, you'll enjoy it.
The point is I love my Metsies. Through thick and thin I start the season with high, usually, delusional hopes and then by July I understand the epic tragedy that reality presents. The Mets usually aren't that good.
But I digress, I liked going to Shea Stadium and love Citi Field.
Fred Wilpon's Brooklyn Dodger Obsession
Fred Wilpon is obsessed with the Brooklyn Dodgers of his youth. He was born in Brooklyn and went to high school with Sandy Koufax. His fondest memory is likely his beloved Dodgers finally winning the World Series in 1955 when he was 18. Wilpon went to Lafayette High School with Sandy Koufax and they remain good friends. Interestingly, they both played on the school's baseball team. I've read that Wilpon was the pitcher and Koufax played first base. If true, I consider it an eery preview of Wilpon's way of getting most things related to baseball backward. Of course, Koufax would become a hall of fame pitcher.1 Wilpon became a notoriously bad team owner.
Citi Field is supposed to honor both of the Met's National League predecessors, the Giants, and Dodgers. However, while it has green seats like the Polo Grounds where the Giants used to play the stadium's overall design more than resembles the Dodgers' Ebbets Field. 2 The overwhelming Ebbets Field influence is clearly a testament to Wilpon's love for the old ballpark. 3
The Jackie Robinson Rotunda
And then there is the beautiful Jackie Robinson Rotunda, which is similar to the entrance to Ebbets Field. Fans entered Ebbets Field through a "majestic marble rotunda" which included a baseball influenced chandelier. The chandelier had "twelve baseball bat 'arms' holding twelve baseball lamps." 4 Citi Field has the same arrangement, an awe-inspiring rotunda oriented behind Home Plate. However, in Citi's case, the rotunda honors Jackie Robinson.
I've read many criticisms about the stadium's focus on Jackie and Ebbets Field. After all, the home team is the Mets, not the Dodgers. The feeling seems to be, "let the Dodgers manage their legacy, we'll manage ours."
However, I don't mind. I like the fact that both New York ballparks remember the city's storied baseball heritage. The Mets in the Ebbets Field look-alike, the Yankees in a replica of Yankee Stadium. However, I do understand the irony that Mets occupy the Ebbets Field look-a-like, not the Dodgers. Moreover, the ballpark is in Queens, not Brooklyn. I need a stronger word than "irony" to discuss the fact that the Yankees play in a replica of Yankee Stadium across the street from where the real one was.
Who Owns Jackie Robinson's Legacy?
The obvious question (at least to me) is who actually owns Jackie Robinson's legacy – the Dodgers or the Mets? Clearly, Jackie was a Dodger and the Dodgers should celebrate everything about him. No one should suggest that Jackie had any association or affinity to the Mets.
With that said, Citi Field is less than 15 miles from Ebbets Field's location at 55 Sullivan Place. Its also located on the site that the Dodgers were offered to use for their Ebbets Field replacement. They decided to go 3,000 miles to L.A. and not 15 miles to Queens.
Additionally, the fastest route to Citi is across the Jackie Robinson Parkway, near where Jackie owned property. Jackie's gravesite is located in Cypress Hills Cemetery, adjacent to the parkway's exit three.5 Additionally, the 1997 ceremony and announcement retiring Jackie's number across baseball was held at Shea Stadium. I've always been proud of New York's connection to Jackie Robinson and feel that honoring him at Citi Field is more than appropriate.
Celebrating Mets History
If the efforts honoring the Brooklyn Dodgers is bizarre, the way that the Met's management honors the past is confounding.
Tom Seaver – "The Franchise"
The Mets waited 50 years to celebrate and honor Tom "The Franchise" Seaver's accomplishments. They only changed Citi Field's address to 41 Seaver Way and announced plans to erect his statue earlier this year. In classic Wilpon fashion, the wait took so long and the publics' demand was so great that the sense was that the Wilpons had to be pushed, reluctantly to do the right thing. The underlying assumption was that – "you know – statues are expensive."
For some perspective, note that Nolan Ryan's career overlaps Seaver's. Seaver began his career with the Mets in 1967. Ryan's debut with the team was in 1966. They both pitched in the 1969 World Series. Seaver retired in 1986 and Ryan pitched until 1993. It took the Wilpons 33 years from Seaver's retirement to announce that they would erect a statue. At the same time, Ryan was honored with two statues. One in Houston and one in Texas. Similarly, two Frank Robinson statues were erected in that time frame – in Baltimore and Cleveland. Finally, Hank Aaron was honored with two statues as well – in Atlanta and Milwaukee.
Retired Numbers & Hall of Fame
Mets' management is stingy in recognizing their great players. While important players are recognized in murals and in the Mets Hall of Fame, their names are not prominently displayed around the playing field like in other parks. The Mets' management seems to follow an unwritten rule that only the players elected to the National Baseball Hall of Fame have their numbers retired. Other teams do the same, Toronto and Cleveland to name a few. However, in these and other ballparks, the names of important players who are not in the Hall of Fame line the seating areas.
69 Mets Mural

86 Mets Mural
Not the Mets. Only the retired numbers of Casey Stengel, Gil Hodges, Tom Seaver, Mike Piazza, and of course Jackie Robinson are visible from your seat. 6 Where are names like Hernandez, Carter, Gooden, Strawberry, Staub, Harrelson, Agee, Jones, and Swoboda, etc?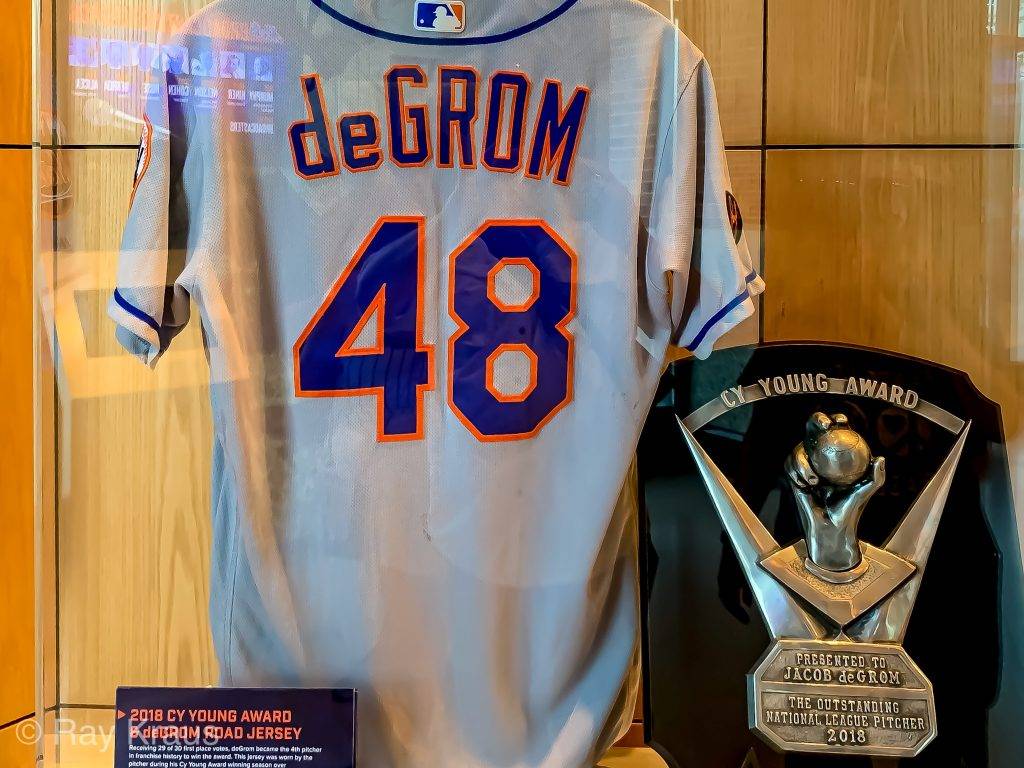 While we're on the subject, could they just retire Gary Carter's number "8", please? He's in the Hall of Fame – yes as an Expo – and was a great Met who helped lead the team to a championship. He deserves the honor.
The Yankees retired the "8" twice – honoring Yogi Berra and Bill Dickey – the Mets management could do it once. They tend to do half of what the Yankees do, so retiring the number "8" once seems par for the course.
Gates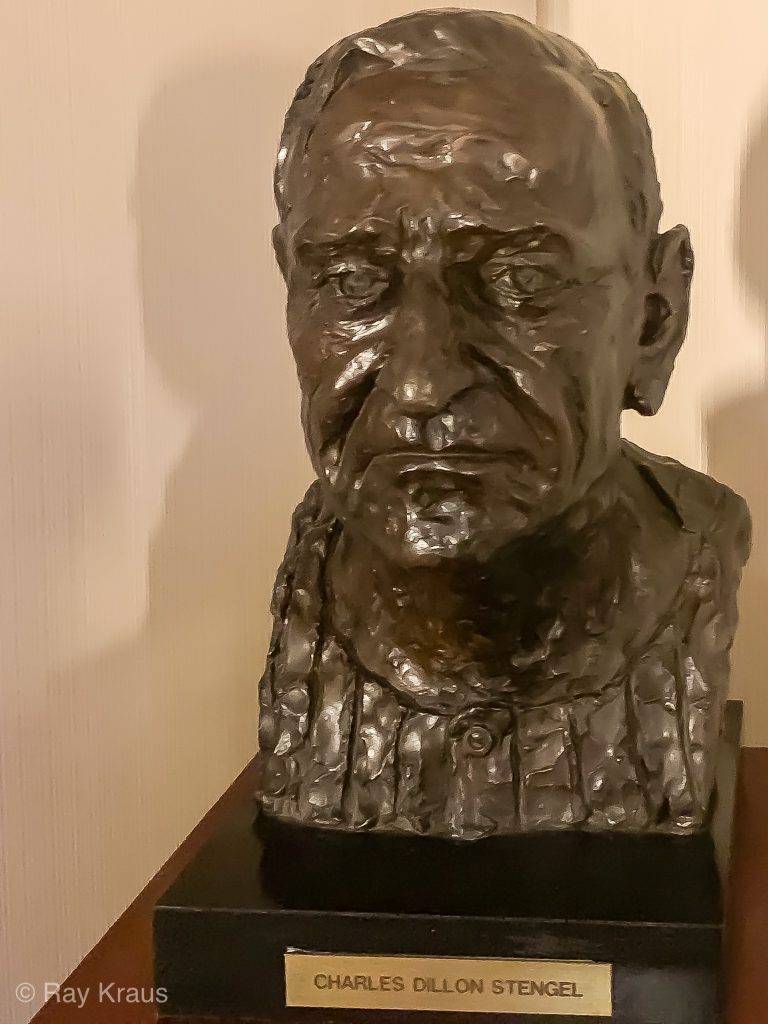 Finally, Citi also features three gates named after famous Mets; the Stengel Gate, the Hodges Gate, and the Seaver Gate. It's a nice touch, but Seaver is not the only great Mets player. Stengel and Hodges were of course managers.
Hot Dogs, Sausage and a Knish
I love the food at Citi. If I've said it once, I've said it a thousand times, you can go to Citi Field and just eat. You don't need to like or even tolerate baseball. You don't have to watch the game, just buy a cheap ticket and eat until you drop.
Unfortunately, due to our scheduling not to mention two weeks on the road, where I experienced lots of fabulous – and a few less than fabulous- eating opportunities, I wasn't very hungry at these games. That meant I couldn't enjoy Arancini Brothers nor could I feast on a Pat LaFreida Filet Mignon Steak Sandwich.
However, my commitment to the Hot Dog Challenge is a given, so I had a hot dog each of the two nights we were there. Surprisingly, a unique hot dog is difficult to find at Citi Field. Its almost as if they figured, with all these great offerings, who needs a hot dog? So the hot dog selection starts with the Nathans hot dog. No offense intended but at the beginning of the Hot Dog Challenge, I was very clear that I expect something more unique than a basic Nathan's Hot Dog. Nathan's hot dogs are ubiquitous in baseball stadiums, and if you've had one, you've had them all.
I needed other options.
Day One – Primio Sausage
We started to get hungry around the third inning. I left my scorebook in Mrs. Nomad's capable hands and went off to find some hot dogs. Instead, I found the Primio Sausage stand which was close to our seats and looked – as they say in Boston – "wicked good." There was a choice of Sweet or Hot Italian sausages and I took the sweet. I had the grilled onions, Mrs. Nomad's was unencumbered. In normal Mets fashion, the first condiments bar had empty mustard dispensers. The next one was fully stocked.
It was a good tasty sausage, though a few too many onions made it challenging to eat – but I didn't lose any. Also, it was very filling, with a nice substantial bun that handled all the onions.
Day Two – A Kosher Hot Dog…
Since we walked through the stadium on the first day, I was able to plan my day two hot dog prior to our arrival. I thought, why not go for the Kosher Dog? My late mother might be somewhat happy that I was eating kosher. As it turns out, she was living in a nursing home quite close to Shea Stadium when she passed away. Her death was surprisingly not Mets related.
…And a Knish
But I digress, on to the kosher dog. When I got to the stand, I noticed that they offered Knishes. Some might ask "what is a knish?" Others may not care, but it's my blog. A knish is a little bit of heaven. It is a large dumpling type affair where the dough is normally stuffed with a potato mixture that resembles – but is much different from – mashed potatoes. The dumpling can be baked or fried. Those in the know like their knishes with a little mustard.
When the Nomad's sister was going to Mets games in the 1970s, her tradition was to get a Knish during the fifth inning. I gave her a silent nod as I ate mine before the game.
So I had a wonderful kosher hot dog, with sauerkraut and a knish on the side. It was a good basic dog. The beef gives it a different flavor from a regular hot dog and the knish took me back to the days when I had to shop in the husky department. A hot dog, knish and body shaming all for less than $20,
I'm ranking the sausage and the kosher dog relatively high on my list. However, it's becoming clear that the larger the dog, the higher the score. Using that scale, the kosher dog was a little wanting.
Farewell
I had a great time at Citi – I always do.
However, I'm mostly sitting 7 in this wonderful but odd replica of Ebbets Field that's not quite in Brooklyn, where the Dodgers don't regularly play, and I realize that I can't go there anymore. At least not for a while.
I'll explain in my next post.
Thanks for reading my article.
If you would like to be notified when I publish new pieces, please register for updates.