April's Lost Weekend
I had to find way my way back to Florida.
My first trip to Florida was early in my summer's thirty stadium journey. I'd been to Spring Training, Opening Day in D.C and the Jackie Robinson Celebration in Philadelphia. Two ballparks down, twenty-eight to go, and I felt the pressure to stay on schedule.
I worried that if I missed a stop, I wouldn't be able to find a way to get back to that ballpark. Of course, if I didn't go back, I'd fail in my attempt to visit all the ballparks in one season.
On Friday the 19th, just a couple of days after I returned from Philadelphia, I took an early morning flight to Miami. I was going to see the Marlins that night.
That night went as planned, although I felt a little tired and a little out of it. On the other hand, I started early that morning. I should feel tired.
When I woke on Saturday morning, things had changed. Tired and dizzy, I wondered if I could make the three-hour drive to St. Petersburg. I soldiered on and started to drive to St. Petersburg. However, an hour north of the city, I realized I couldn't go on.
I slowly drove back to a hotel near the Miami Airport and, all the time, feeling defeated and doubtful. Would there be a way to get back to St. Petersburg? Would I be able to get to all the stadiums?
I slept the rest of the day until the next afternoon, and then the somewhat defeated Nomad flew home.
I knew that I had to find my way back to Florida.
Going Home
Over the summer, I revisited my past haunts. In August, I walked through the Bronx neighborhood where I was born, and my extended family lived. The following week, I went to Fenway. Mrs. Nomad and I have fond memories of our visits there when we lived in New England. Earlier in the summer, Nomad the Younger and I drove by the house where we lived in St. Louis. Then we drove by the office I worked in, near where she went to daycare. Finally, I went to Cleveland, where my father lived, and we saw so many games together before he died.
Now I was in St. Petersburg, where we lived when I was young.
We moved to St. Petersburg when I was five. At the time, we were a family of four. The year after we moved, a new baby brother arrived. Eighteen months later, another brother came.
I went to elementary and middle school in St. Petersburg. It's where I played little league baseball and went to spring training games at Al Lang Field with my father. I remember sitting in Mr. Wilson's Earth Science class in 1969 when they announced that the Mets were World Champions. The Mets were the closest thing I knew to a "home team" since they trained in St. Pete. Of course, I was from New York, so winning reaffirmed my home town pride for my birthplace and newly adopted home town.
I was yearning to visit where I spent some of my formative years. Where I experienced the sixties, the Civil Rights Movement, too many televised assassinations, men walking on the moon, and a war that I had yet to understand.
I was intrigued to go back.
Central Avenue to Al Lang Field
Since I arrived late on Friday night, September 6th, I only had the early part of Saturday to experience St. Petersburg. I couldn't do more because I was going to the game on Saturday night and flying home on Sunday.
In the fifty or so years since we left St. Pete, the city has experienced a resurgence.
"Fueling the city's vibrancy is a robust art community and a craft beer scene that continues to bubble and brew. 'God's waiting room' as it was once known, is more like a heavenly rave these days, with downtown bursting on weekend nights with music and street life."

Janet K. Keeler 1
Central Avenue is one of these resurgent areas and just a few blocks north of Tropicana Field. It was a short walk for me since I was staying just a block south of the stadium.
I walked down Central, past eclectic restaurants, bars, and art galleries until I was surprised to see signs for Al Lang Stadium. I turned right on 1st Street and there it was, now refurbished as a soccer stadium. It didn't look like I remembered it, some fifty-odd years ago, yet I fondly remembered going there with my father.
In those days, the powerful Cardinals trained in St. Petersburg, winning three pennants and two World Series. I was used to seeing great players like Lou Brock, Bob Gibson, Curt Flood, and Roger Maris.
My little walk turned into a hot, sweaty, 5-mile hike. When I finally got back to my hotel, I showered, rested, and got ready for the night's baseball.
How the Rays Came to St. Petersburg
The Stalking Horse
"St. Petersburg had become a stalking horse."

Jonah Keri 2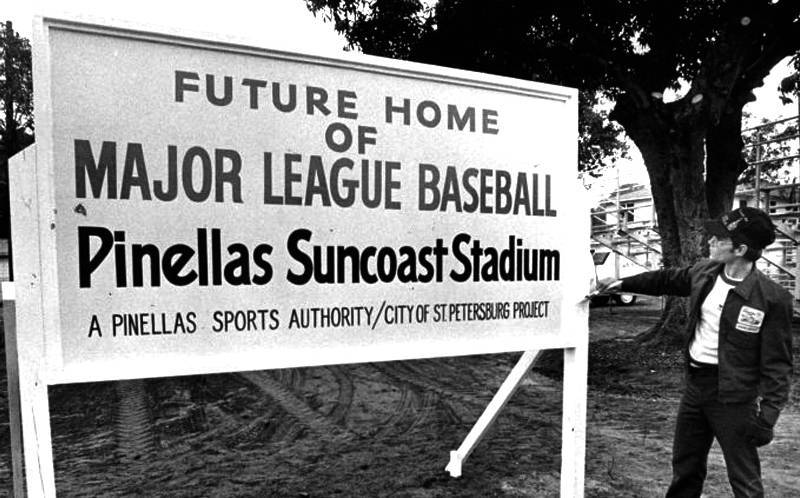 In 1997, the Tampa Bay community formed the Pinellas Sports Authority to build a stadium and acquire a team. In the early eighties, before building the stadium, they made unsuccessful efforts to buy the Minnesota Twins and Texas Rangers. Finally, in 1986 the St. Petersburg City Council agreed to build Tropicana Field without any promise of securing a franchise. It was a risky gamble that paid off. In 1995, MLB awarded the city an expansion team.3 The "Devil Rays" started play at Tropicana Field in 1998. Twelve long years after the vote to fund the stadium.
Acquiring the expansion Devil Rays was anything but easy. Instead, it was a difficult and frustrating, almost two-decade slog. Many teams used the threat to move to St. Petersburg to obtain lucrative new stadium deals in their home cities. The Twins, Rangers, Mariners, White Sox, Giants, and A's all negotiated with the Sports Authority. Only the A's, failed in their attempt to get a new stadium in their home city. 4
The White Sox and the Giants came the closest to moving to St. Petersburg. Each ultimately failed.
The White Sox – Sorry, No Deal
In the early 1980s, new White Sox owners Jerry Reinsdorf and Eddie Einhorn wanted to replace aging Comiskey Field. However, the state would not finance the effort. So the team made plans to leave for Florida. 5 In 1988, they agreed to bring the White Sox to Florida.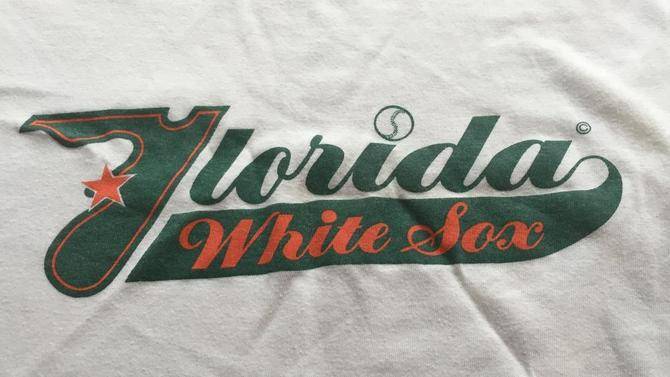 However, Illinois Governor Jim Thompson wouldn't let the White Sox leave. On June 30th, with a midnight deadline looming, he ceaselessly negotiated and lobbied with state legislators to keep the White Sox in Chicago. Approaching midnight and without enough votes to pass the necessary legislation, Thompson took the extraordinary step and had the statehouse clocks stopped. The bill passed after midnight. 6
Meanwhile, in Florida, where fans who were already buying Florida White Sox t-shirts, the frustration was palpable.
The White Sox now play in "a soulless, modern object stuck in the middle of parking lot."7 called Guaranteed Rate Field. Interestingly, this is also an apt description for Tropicana Field.
The Giants – Sorry, No Deal – Again
After their White Sox heartbreak, St. Petersburg tried to win one of the expansion franchises awarded in 1991. Unfortunately, in a surprise last-minute decision, MLB selected Miami, instead of St. Petersburg as expected. It was another heartbreaking loss.
The next year, St. Petersburg turned its attention to San Francisco, who wanted to leave cold and windy Candlestick Park. Similar to the White Sox's situation, the Giants could not get public support for a new ballpark. 8
In August, Giants' owner Bob Lurie agreed to sell the team to future Rays' owner Vincent Naimoli. Naimoli would, in turn, move the team to St. Petersburg.9
Neither Major League Baseball, Giants fans, or Mayor Willie Brown wanted the Giants to leave San Francisco. Everyone's preference was to find a local owner who would keep the Giants in San Francisco. Finally, in November, Peter Magowan agreed to purchase the team and keep them in San Francisco. In turn, the owners voted against the Florida deal. With a final bit of frustration for St. Petersburg, Magowan's offer was $11 million less than Naimoli's. 10
Naimoli, as well as city and state government officials, understandably believed that the process was unfair. A series of lawsuits and a congressional investigation followed. These actions likely helped their cause. In 1995, MLB awarded St. Petersburg its franchise when they expanded again.11
The Giants moved into their beautiful ballpark overlooking San Francisco Bay in 2000.
The Trop's Esthetics
"……Unfortunately, the Rays have the worst home park in MLB to which to draw those folks. It's an absolute dump. It's horribly located, poorly lit, utterly lacking in both charm and intelligent design."

Matt Trueblood 12
Tropicana Field was almost ten years old when the Devil Rays started to play in 1998. During those years, it remained empty, with occasional sporting events – tennis, arena football, and hockey – and concerts.13 In the meantime, ballpark design changed drastically. New ballparks followed the retro style trend began when the Orioles opened Camden Yards in 1992 to rave reviews.
Even if done well, The Trop's utilitarian design would dissatisfy baseball fans who enjoyed the charm of these new ballparks. Frankly, it's the kind of stadium that I loathe. It's an all-purpose, domed stadium that has few outstanding features other than they play baseball inside.
My first-row seat in the "lower box," on the aisle just above the field level seats was disappointing. The seat was almost as uncomfortably cramped as my small seat at 107-year-old Fenway Park. Unfortunately, there wasn't much legroom either. To make matters worse, my view was blocked by the raised railing in front of the aisle.
Considering that my ticket cost $70, I can understand why fans have second thoughts about going to the Trop. It can be an expensive and uncomfortable experience.
The Rays Attendance Problem
The Rays have an extreme attendance problem.
Tampa Bay ranked last or next to last in American League attendance in seventeen of their twenty-two seasons. However, their continued weak attendance isn't a function of the team's poor play. In five of the last twelve years, they finished first or second and appeared in the playoffs. In 2009, the year the Rays played in the World Series, Sadly, their attendance ranked eleventh out of fourteen teams. 14
Baseball attendance for both teams in Florida is so bad that many wonder if professional baseball can exist there. For example, in the last two seasons, their attendance ranked 29th and 30th in the major leagues.
What's Wrong With Florida Baseball?
The poor state of Florida baseball surprises people since it is one of the two states that host spring training. However, many of the fans who attend the "Grapefruit League" are on vacation and not Florida residents. They are not there during the season. 15
Other issues affecting attendance are:
Florida fans are transient, many move there from other parts of the country. Baseball fans bring their original allegiances with them. So while there may be baseball fans in Florida, only a small proportion are Marlins or Rays fans. 16
To a certain extent, the teams have not been competitive. The Marlins' last playoff appearance was in 2003. Although the Rays made the playoffs in five of the previous twelve years, their first ten years were awful.
Bad ownership is another problem. Vince Naimoli, the Rays' first owner, created "a perception he was more interested in making money than winning."17 In so doing, the Rays had a poor chance of gaining a popular following. 18 Moreover, South Florida fans considered long time Marlins' owner Jeffery Loria, only somewhat more favorably than Fidel Castro. 19
It's Hard to Get to The Trop
"It all boils down to the worst-kept secret in Tampa Bay sports, Tropicana Field was built on the wrong side of the bay."

Noah Pransky 20
Tropicana Field is roughly a twenty-mile drive across the bay from the Tampa International Airport. However, what should be a 20-minute drive over the Howard Frankland Bridge on interstate 275 can take much longer, due to congestion on these roads.
Moreover, the Airport is on Tampa's west side, far from the populated areas north and east of the city. 21 Traveling from those areas can take much longer.
"Fan out to population centers east of Tampa—Hillsborough County's fast-growing Brandon, for example—and you could be looking at two-plus hours, coming and going, to see a Rays game on a weeknight. Northern bedroom communities face similar hair-pulling commutes. Greater Orlando's two million-plus residents are theoretically within range, with a ninety-minute jaunt from its southwestern suburbs to the ballpark on paper—but that trip is an exercise in vehicular masochism for those who dare chance it during rush hour."

Jonah Keri 22
Locating a new ballpark in Tampa makes a lot of sense. However, it's hard to see how St. Petersburg would agree to the move, and they hold the Rays' lease at the Trop through 2027.
The Neighborhood Around Tropicana Field Has Few Residents
If the Rays can't draw enough people from Tampa and its outlying areas, they need to attract fans from the surrounding communities. However, that is also problematic, since few live near the stadium.
"Only 19% of Tampa Bay residents live within a thirty-minute drive of the Trop—by far the smallest percentage of any MLB market. Seattle, with roughly the same population base, counts two and a half times as many residents in a half-hour driving radius. Every market smaller than Tampa Bay counts at least half its residents within thirty minutes of the ballpark."

Jonah Keri 23
The Trop sits in the on 66 acres of land 24 surrounded by nine vast parking lots and bordered by two highways. As such, it is the antithesis of a neighborhood ballpark where fans patronize businesses that closely surround the park. Instead, fans park their cars, walk into the stadium and after the game, get back in their cars and drive home.
The barriers created by the parking lots and highways inhibits the Trop from helping the local economy. One study suggested that that the stadium generates no more than $10 million of economic impact in the community that surrounds it.25
The Rays Success
"The Rays have no fan base to speak of, play in a dump and are stuck in a division with the two biggest spenders around. Yet somehow, they put up 90 wins in 2018, equal to or more than 20 other teams."

Paul Ladewski 26
I, for one, am fascinated by how the Rays stay competitive.
In 2004, Stuart Sternberg purchased a 48% share of the currently named "Devil Rays." The following year, he became the managing partner and started to make long, overdue organizational changes. Over the next few years, the team would change their name – the "Devil Rays" became the "Rays," their uniforms, and, most importantly, their philosophy.
The new philosophy came with members of the Front Office staff that Sternberg brought into the organization. Sternberg and Team President, Matthew Silverman met at Goldman Sachs when they worked as investment bankers. Twenty-eight-year old Andrew Friedman, the Executive Vice President of Baseball Operations, was an analyst at Bears Sterns and MidMark Capital. 27
Although all three are baseball fans, their skills in evaluating investment opportunities dominated their baseball strategy.
"Though their backgrounds were somewhat different, all three men shared an ability to recognize value in a company and to pull off successful deals."

Jonah Keri28
Positive Arbitrage
"To Friedman, every trade, signing, and draft pick was part of a greater process. The Rays searched for ways to create situations of, as Friedman called it, "positive arbitrage." In financial markets, arbitrage refers to the concept of simultaneously buying one asset and selling another, where the asset you're buying is cheaper than the one you're selling;"

Jonah Keri 29
Even though Friedman is now the Dodgers' President of Baseball Operations, the Rays seem to have continued the philosophy that he, Sternberg, and Silverman introduced. 30
The Rays use analytics and data to find the players that other teams don't want. At the same time, they trade players whose value is peaking, but they cannot afford. In so doing, they get maximum return.
They also offer recommendations as to ways the players should change their game to be more successful.
"While 29 other teams thought Charlie Morton was too old (he's 35) or too fragile (he never had exceeded 172 innings) or too risky (give me age, give me brittleness, don't give me both), the Rays were smitten. He set career highs in starts (33), innings (194⅔) and strikeouts (240). He should finish third in AL Cy Young voting. His five innings in the wild-card game allowed home runs from Diaz, Tommy Pham and Garcia — two others cast out by their teams — to stand up."

Jeff Passon 31
"The Envy of Baseball"
"The ability of the Rays to consistently find ways to field competitive teams in the face of long odds has made their front office the envy of baseball. It has also caused the franchise to lose many of its top executives."

John Perrotto 32
A short list of the executives that started with the Rays and have moved on to other teams includes:
Friedman became the President of Baseball Operations with the Dodgers in 2014
Chaim Bloom, the Senior Vice President of Baseball Operations, became the Boston Red Sox Head of Baseball Operations in October 2019.
James Click, the Vice President of Baseball Operations, succeeded Bloom but then became the Houston Astros General Manager in February.
Rocco Baldelli won the Manager of the Year award with the Minnesota Twins last year. Previously, he was a Rays player and held a series of coaching and front office positions with the organization.
Charlie Montoya managed the Rays Triple Rays affiliate for years. He then became their major league third base and then bench coach. In 2018 he was hired to manage the Toronto Blue Jays
"We have great organizational leadership, strong faith in our ability to regenerate, and we have supreme confidence in the men and women who will be stepping up into their newfound opportunities and responsibilities. That is the Rays way. It is who we are, it is what we do."

Stuart Sternberg 33
Saturday Night at The Trop
"More Cowbell?"
I dealt with my cramped seats but found the cowbells annoying as hell. The cowbells were inspired by the famous Saturday Night Live Sketch, with Will Farrell and Christopher Walken. It's the sketch that reimagines the Blue Oyster Cult "Don't Fear the Reaper" recording session. As the band plays, Farrell bangs his cowbell wildly, Walken, frequently interrupts, and demands "more cowbell!"
Sternberg thought it would be a good idea to distribute cowbells to the fans, have them make as much noise as possible, and gain a home field advantage. It became a "thing" and they still do it. 34 I hated it.
Pure Rays Fashion – The Curious Case of Travis d"Arnaud
Other than said cowbells, I enjoyed the game.
Anthony Kay made his first major league start with the Blue Jays after a mid-season trade with the Mets. In exchange, the Mets received talented, veteran pitcher, Marcus Stroman. Kay had an excellent debut, striking out eight in five and two-thirds innings. When he left the game, he was ahead and left the game with a one-run lead.
However, the Rays came back, in pure Rays fashion thanks to another ex-Met, Travis d'Arnaud.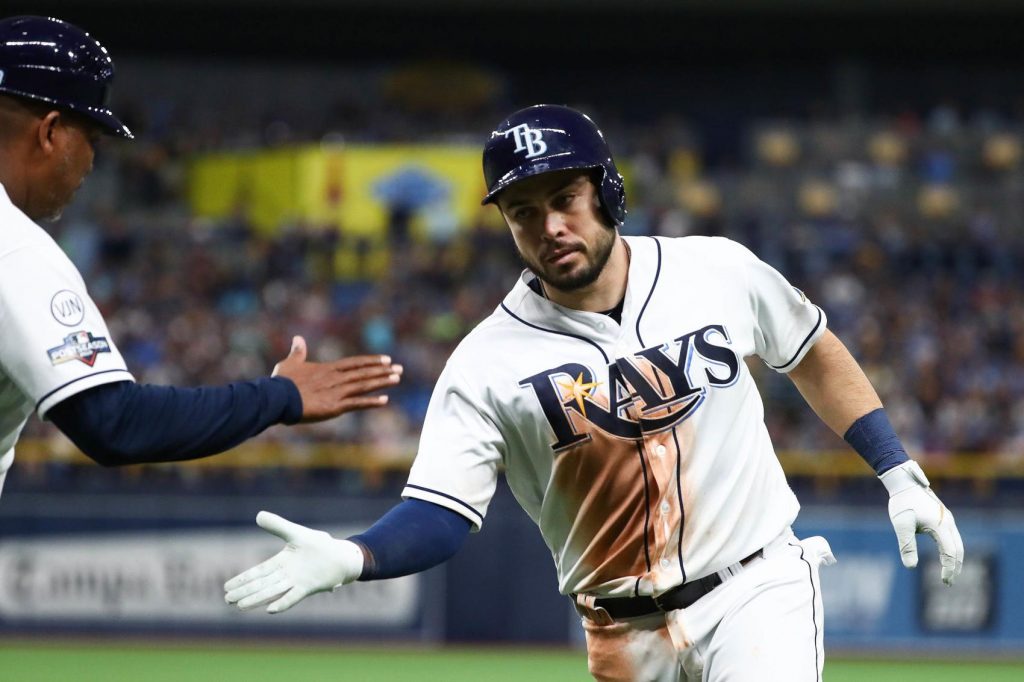 In December, the Mets tendered d'Arnaud a $3.5 million contract even though he was recovering from Tommy John surgery. However, they released him in May when d'Arnaud had trouble with his timing at the plate.
Travis left with his $3.5 million and promptly signed with the Dodgers. However, the Dodgers promptly traded d'Arnaud to the Rays for cash considerations. That's when he started to play well. Statistically, d'Arnaud's performance was similar to Mets catcher Wilson Ramos.35 The Rays and possibly Dodgers saw something in d'Arnaud that the Mets did not.
In tonight's game, d'Arnaud singled and scored the tying run in the seventh inning. Later, he hit a sacrifice fly that scored what would be the winning run.
In true Rays fashion, they picked up d'Arnaud, a guy that the Mets didn't want, and paid him $428.6 thousand. Conversely, The Mets paid Wilson Ramos, d'Arnaud's replacement, $7.5 million. The Ray's won 96 games and went to the playoffs, the Mets won 86 games and went home. In the offseason, d'Arnaud signed a two-year $16 million deal with the Braves.36
Also, in true Rays fashion, there weren't enough fans to start a wave in the eighth inning.
Home
I flew home on Sunday and got ready for my last big trip of the season. It would be two weeks through Seattle, San Francisco, Oakland, Denver, Phoenix, and Detroit. The end was near, but I had a long way to go.
Meanwhile, I was happy that I got back to Florida, and saw the quirky Rays play in their odd ballpark. I still can't handle the cowbells, though.